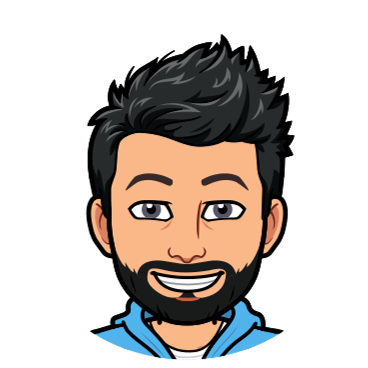 Sagar Vasnani
Product Manager
Strategic Design for Misa's Spectra
Picked as the 'Best strategic design plan' by the client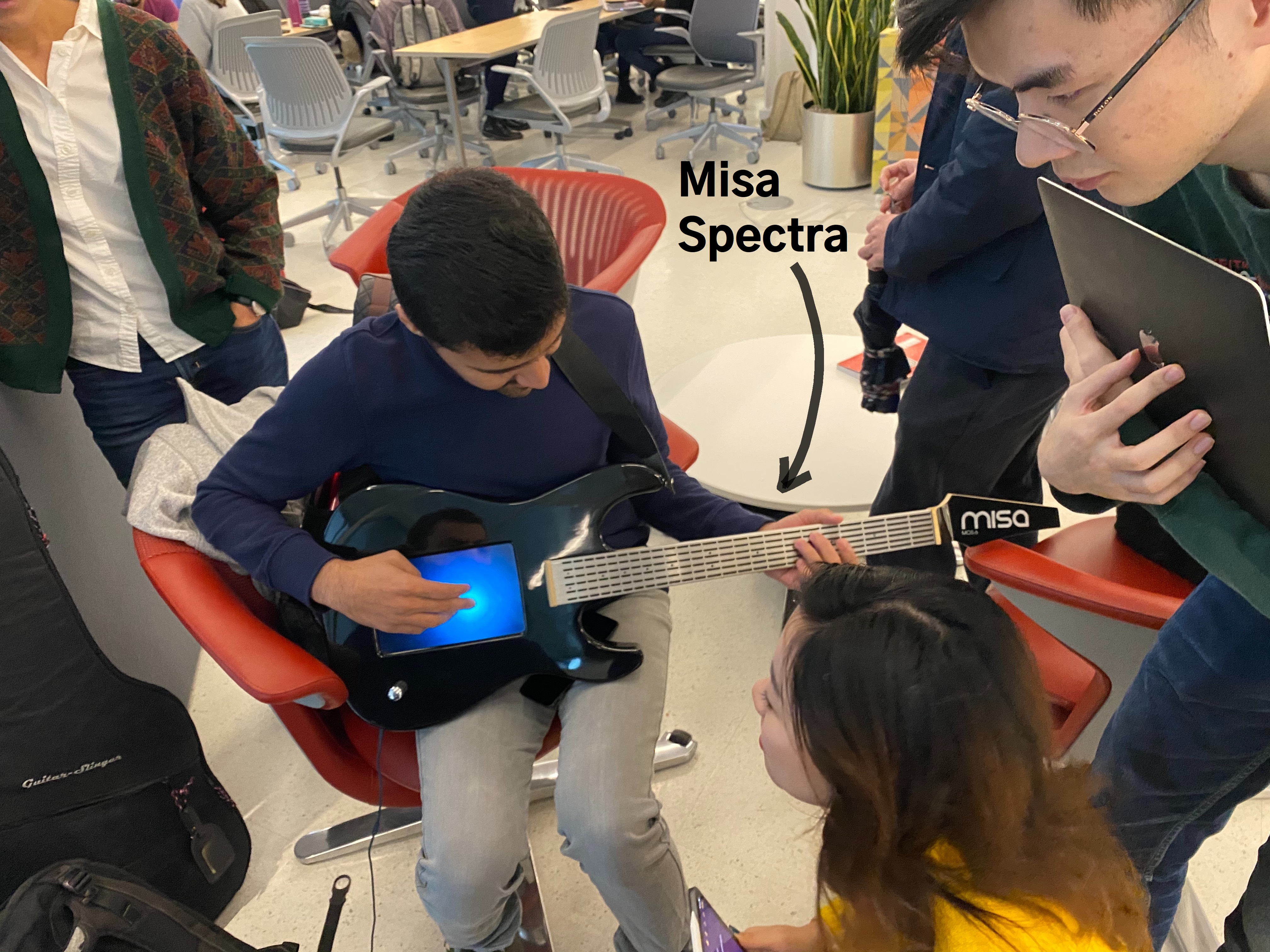 Strategic plan for Misa Spectra
This project was part of a competition to come up with a strategic plan for selling Misa Spectra electric guitars.
Our strategic plan was picked as the best one among eleven competing teams.
Project type
Academic | Client-based
Team size
Three designers: two from an engineering background and one from architecture
Role/Skills
Strategy, Service design,
Research
Challenge: How might we help Misa strategically sell Spectra and profit from it?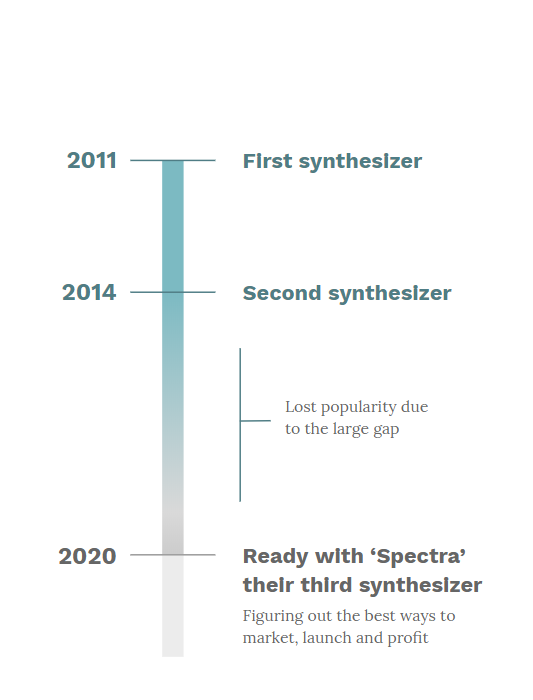 Context
Misa is a company run by two individuals that create musical instruments and synthesizers. They have had products in the market for the last 9 years.

They are getting ready to release another synthesizer and are identifying the best ways to launch & profit with it.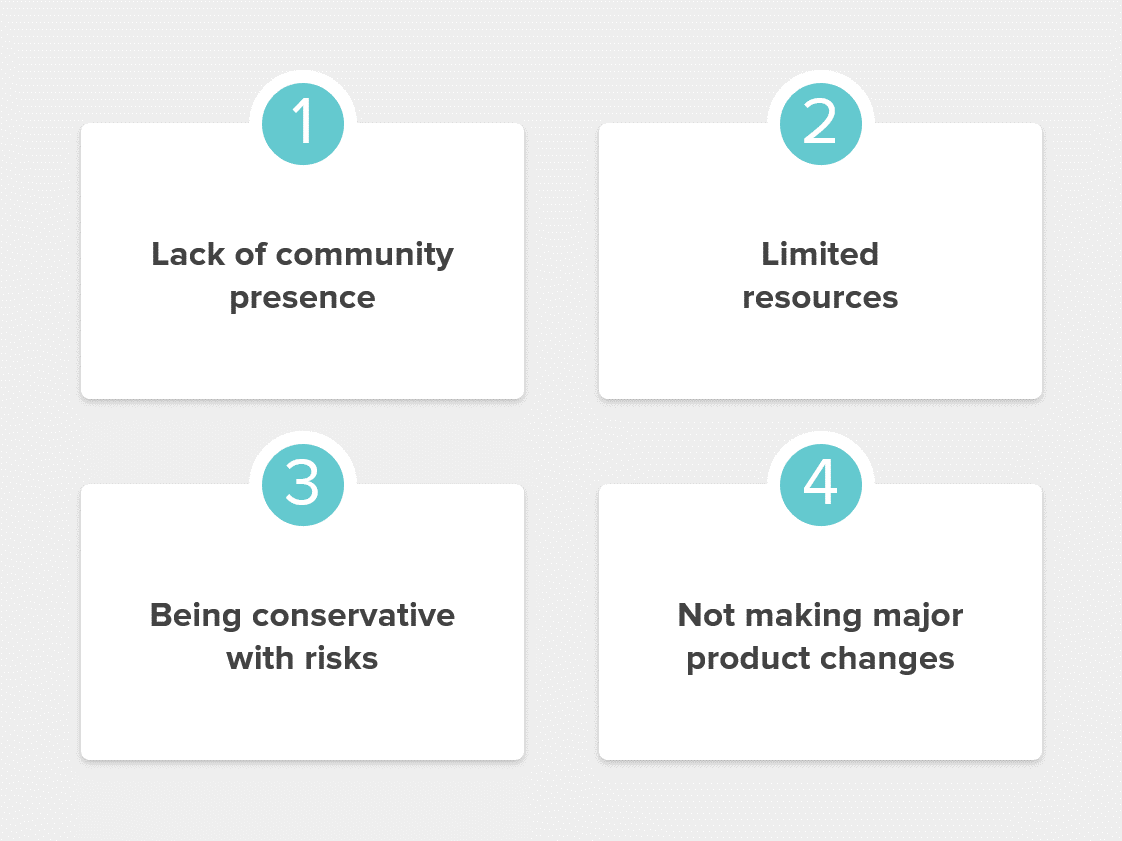 Defining constraints
Why did we do this? One of our implicit tasks was to deduce the constraints from the client's situation. We did this to empathize with the situation and design with the considerations in mind.

Constraints:
1. Their community presence faded after 2016 as brand-community engagement reduced.
2. The company was run and funded by only two individuals.
3. The company was risk-averse as they couldn't afford an error in product marketing.
4. Twenty Spectra units were already in preproduction. There was no going back.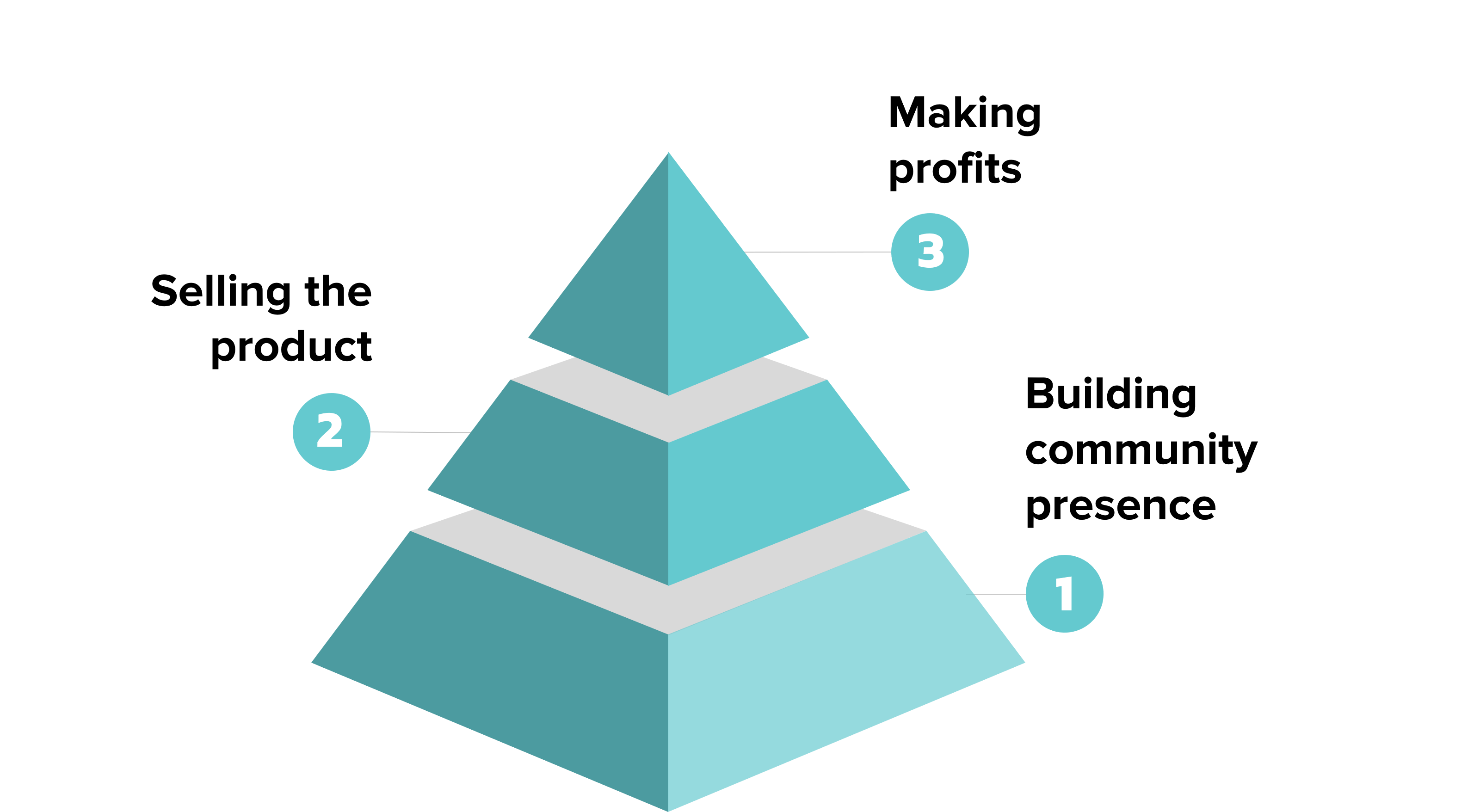 Defining goals
Why did we do this? The primary goal of the project was to help Misa make a profit. To achieve this, we realized there were sub-goals that needed to be achieved first.

Goals:
1. It was important to focus on building a community presence before anything else to create the necessary hype.
2. Selling a large number of Spectra units to the built community was the next priority.
3. Misa could make even more profits by getting creative in ways, like selling complementary items.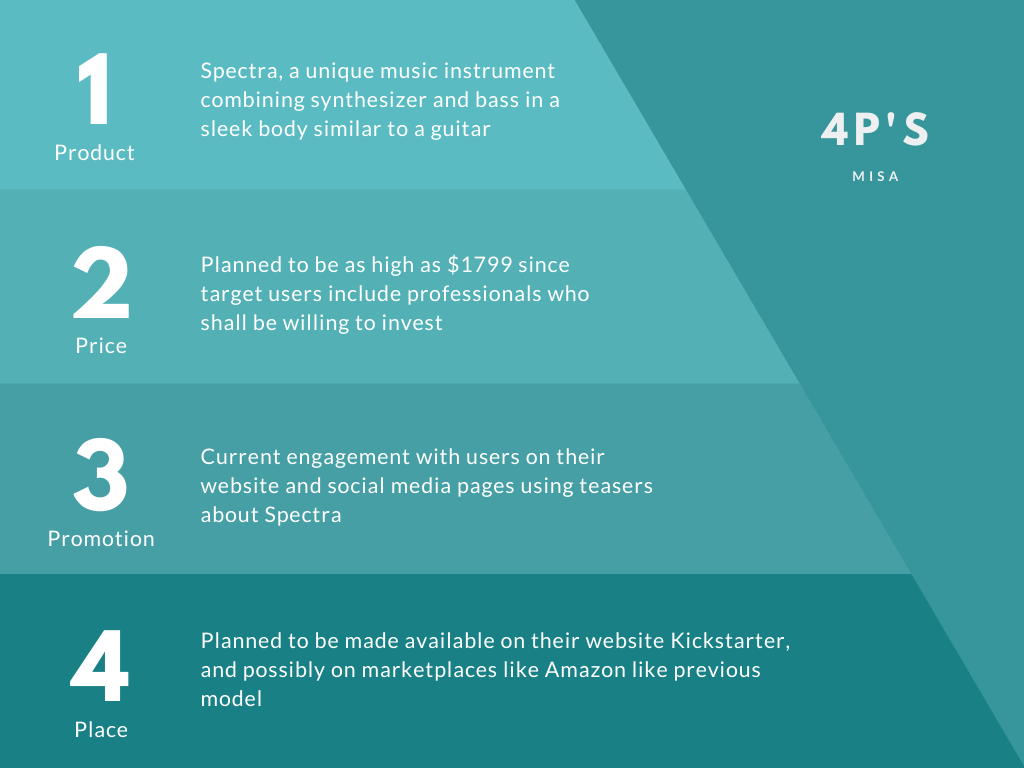 Analysis using 4P's framework
Why did we do this? 4P's is a great framework to highlight the essential factors while bringing a product to the public.
What did we learn? Articulating the current plan gave us a clear view of Misa's existing plans with releasing Spectra.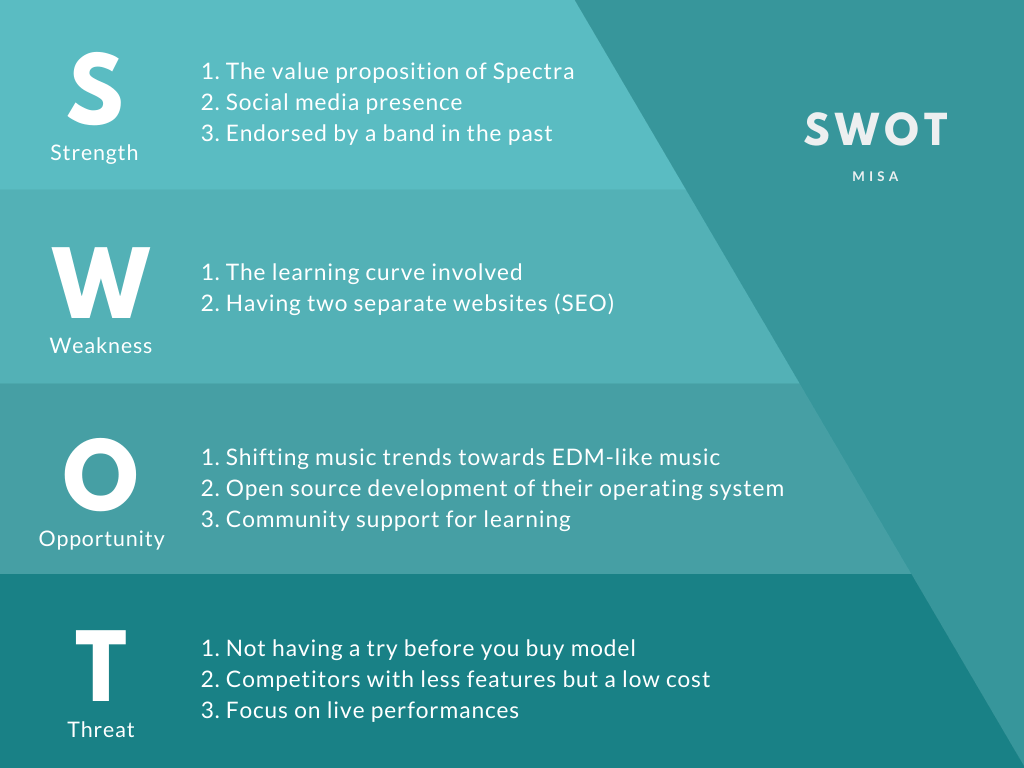 Strategic analysis using SWOT
Why did we do this? SWOT analysis is a great way to build on what's working while addressing what's lacking.
What did we learn? We learned that there were many things our proposal could be addressing. Thus we needed to prioritize what was important.
Next steps: To learn what to prioritize we needed to get started with research.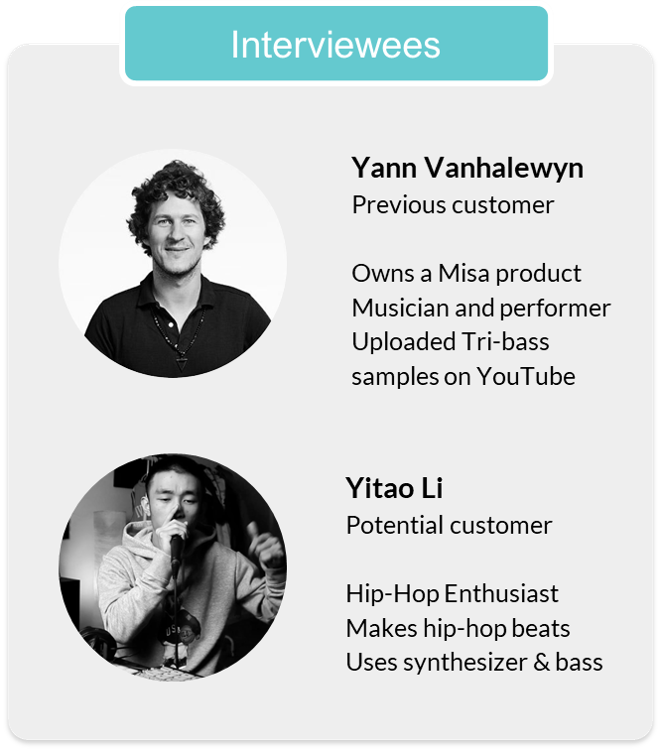 1. User Interviews
To also understand what the market's expectations were from a product like this we conducted two interviews.
We interviewed a hip-hop enthusiast who was a potential customer, and we managed to get in touch with and interview Yann from the Netherlands, who already owned Misa's previous synthesizer.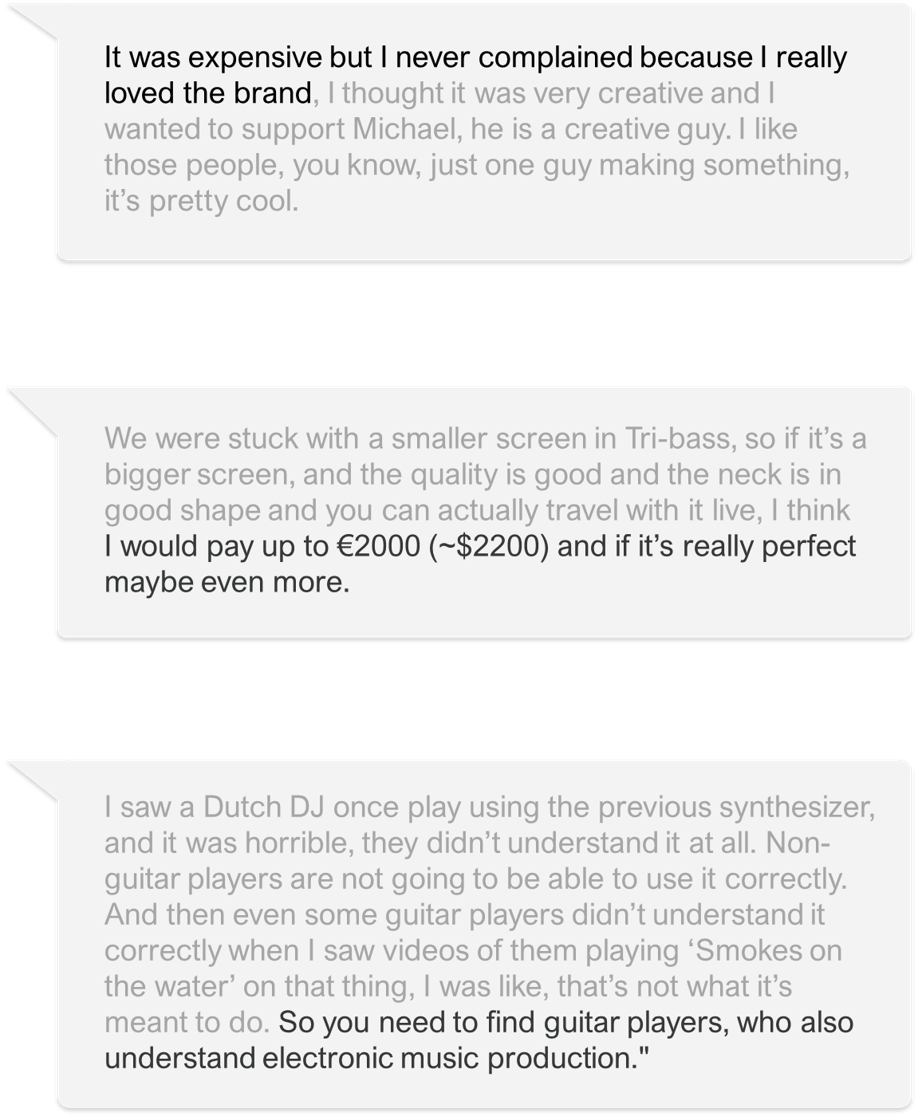 What insights did we gain?
1. Customer loyalty
Insight: Previous customers respect and admire the brand and have a soft corner for its products. Whereas, the new customers might not have heard about it.
Action: Spectra needs to be marketed to both these segments in a different way.
2. Pricing
Insight: Interviewees are willing to pay $1700-$2200 for the new Misa Spectra. Selling it for $1799 would mean leaving money on the table.
Action: Provide additional value along with the existing product by selling the customers add-ons or extras.
3. Market segment
Insight: This product is for a very niche segment since even the guitarists don't use it to its full potential.
Action: The product might be better suited for the backstage audience, like the music producers.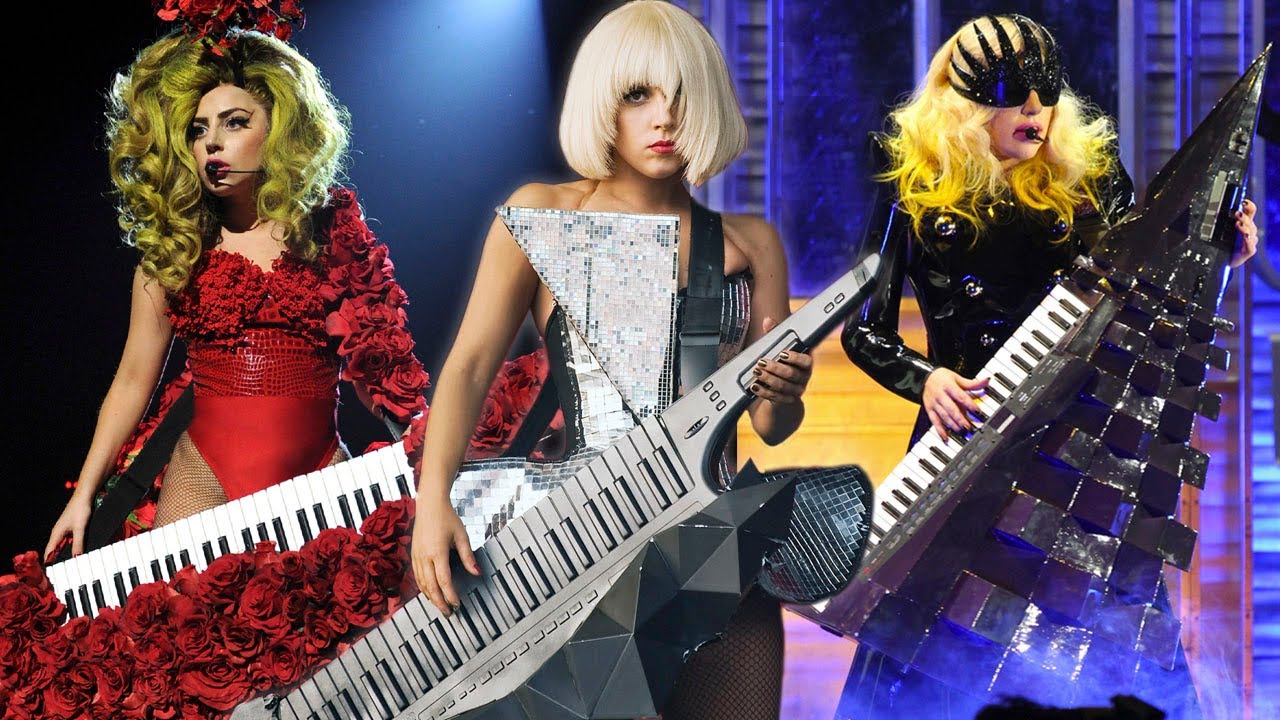 2. Case study: Keytars of the '80s
Keytars were synthesizers with a strap like a guitar but keys like a keyboard. It got famous in the music industry during the '80s as it was unique and brought keyboard players to the front stage.
However, they left the industry as fast as they came in as not everyone wanted to use them. But, every so often, a keytar was picked up for their performance by somebody with a very niche interest.
Examples include Muse and Lady Gaga in 2010, the Boston Keytar Bear in 2011, and Bridgit Mendler in 2014. What was common among these was that they were not just performers but also music creators.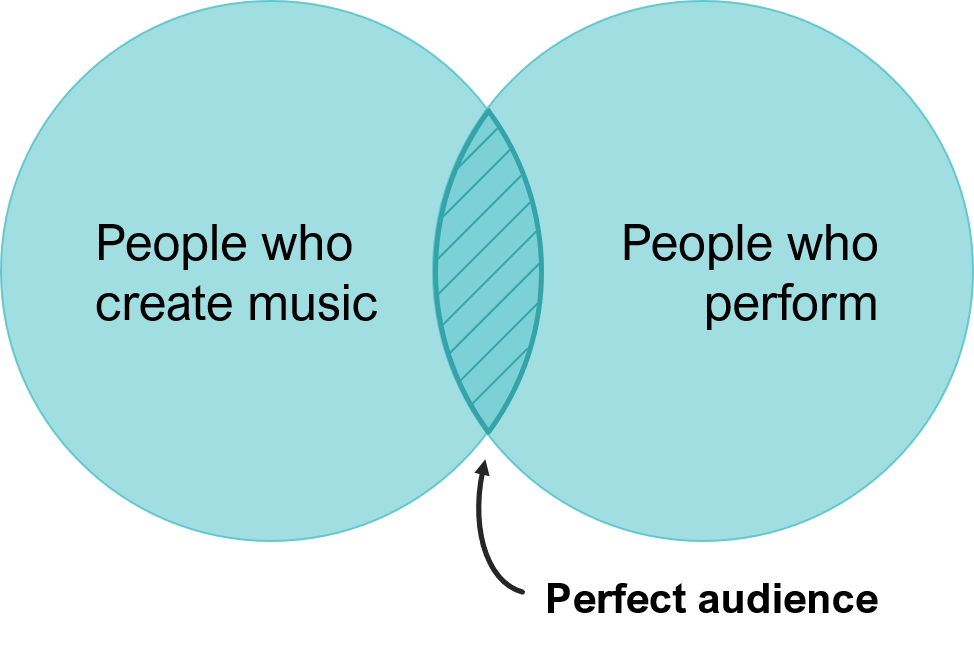 What can Misa learn from this?
Spectra has a similar stage appeal as of a keytar, and so, performers would love to perform with it.
At the same time, the best people to appreciate Spectra and use it to its full potential will be the ones creating music.
Thus, build deep relations with a niche market by targeting a specific user segment who not only knew how to use it to its full potential but also would want to take it on stage.
This also reinforced our insight #3 from the interviews.

1. Building Community Presence

Improved online presence
Misa could start by building a community presence, which would act as a foundation for other activities. The following is a list of immediately actionable activities:
Unify the two separate Misa websites.

Engage with fans on popular social media channels.

Keep the audience up to date with teasers about the release of Spectra.
Collaboration with Jacob School of Music
Misa could build a mutual relationship with Jacob school as it is based in the same city and is one of the top music schools in the US.
Give students exposure to Spectra and get it beta-tested before the release.

Participate in local events by the school to promote Spectra.

2. Selling the Product

Marketing based on user segments
The interview finding of customer loyalty and case study finding of targeting the right set of people helped us arrive here:
Curate separate campaigns for both previous & new customers to target both groups differently.

Locate a niche market of music producers that also perform, and go after that.

Make product FAQs and video tutorials available for prospective customers.

Collaborate with the right influencers to sell them Spectra for a cheaper rate in return for a YouTube review marketing.
Offering referrals and campaigns
The following activities could be done to attract people who might not have heard about Spectra yet.
Allow people to refer the product to their partners for a discount.

Introduce early-bird sales and holiday discounts.

Provide discounts for students.

3. Making Profits
Setting the right price
This would be a no-brainer, but our interview findings indicated that Misa could be selling themselves short here.
Do not try and compete with the price of low-end synthesizers.

Set a premium price since the product targets a very niche market and people will be willing to invest in a product as powerful as this.

The planned price of $1799 works but might mean leaving money on the table as users are willing to pay up to $2200.
Warranty as an add-on
The Misa product that our interviewee owned broke down, and it didn't have any warranty support. Adding a warranty would hence, be a good idea.
Leverage the $400 gap between user expectation and planned price by offering an add-on to extend the warranty.

Let the add-on provide a 12-month warranty extension on top of the default warranty duration.

With the add-on, also cover expenses for shipping Spectra back, thus, users won't exploit the add-on as they would be responsible for the initial shipping.

Based on the industry-standard, sell the add-on for 10 to 18% of the product
(6-10% for the warranty and 4-8% for the shipping).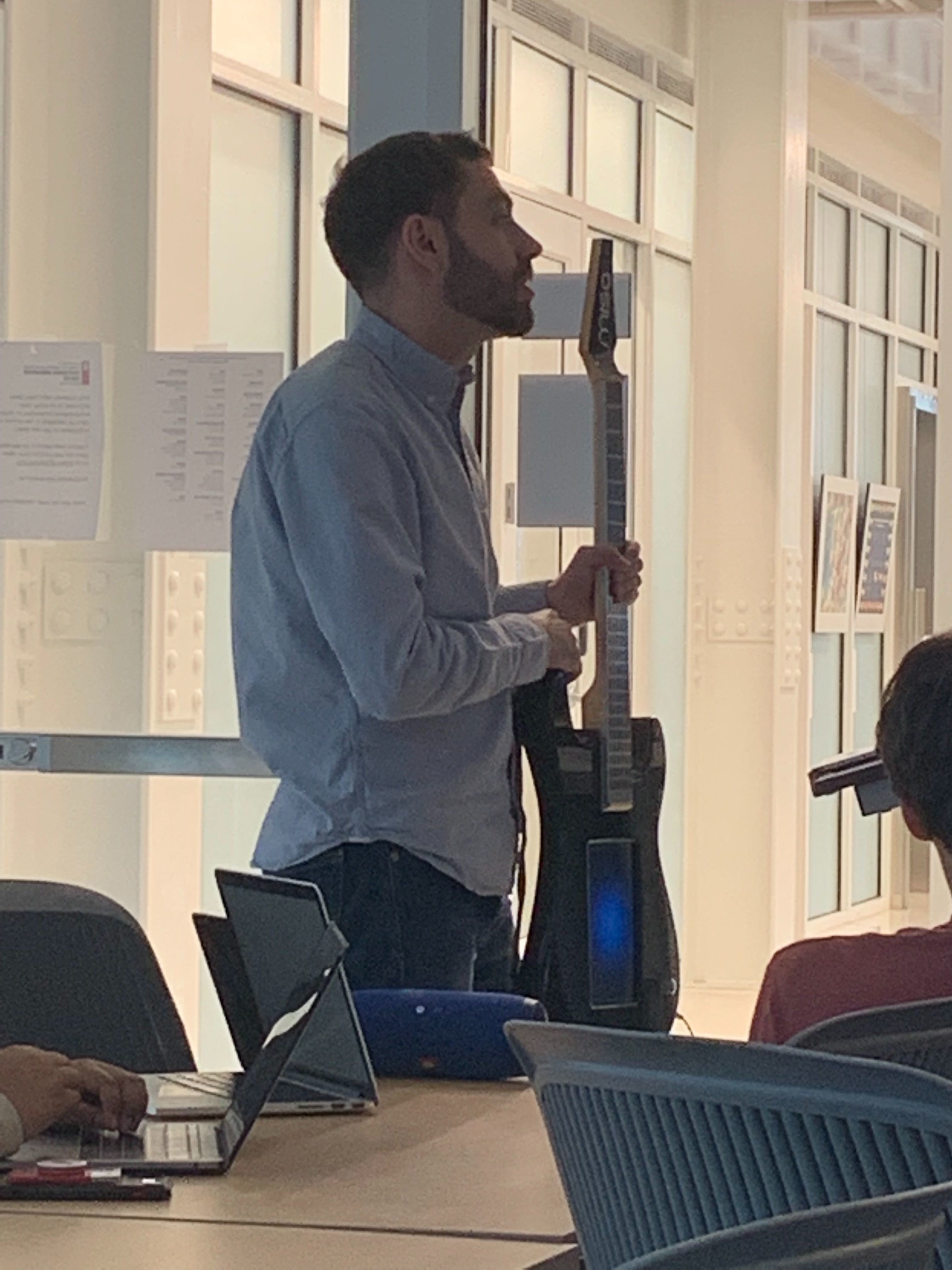 Eleven teams presented their proposals to the client. The client picked our team as having the best strategic plan.

What did the client have to say?
"Your team best understood what we were looking for and where we were at."

"The Keytar case study was a very relevant product to look at."

"What stood out among other teams was that you found one of our previous customers and spoke to them. That was really valuable to not only get your opinion but to also hear from our customers."

"You also had some good statistics within the warranty, as far as convincing us of certain directions."
Reflections

1. Groundwork helps you to be on the same page as the client
Know and articulate the goals and constraints well during the early phase of the project. Communicate these with the key stakeholders to make sure you are on the same page as the client. Let your research be directed by these goals and constraints.

2. Trust your team, especially during a time-crunch
It is wise for every team member to take ownership of their module, particularly when working in a fast-paced setting. Delivering your best work and trusting others would too is perhaps the best way to succeed at fast-paced projects, as long as there are regular team meets to discuss and update everyone with the progress.

3. Strategizing is a vital part of innovation
To innovate is not to come up with groundbreaking ideas, it is rather about strategizing contemporary ideas that strike the perfect balance between feasibility, viability, and, desirability.