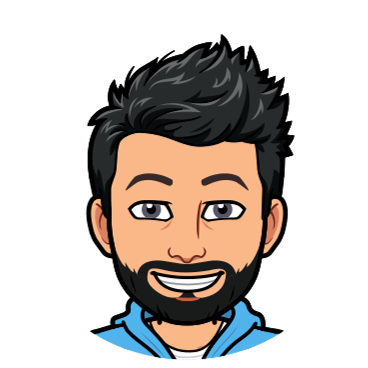 Sagar Vasnani
Product Manager
Let's Meditate
Top-ranked meditation app
with two million downloads
In 2015, a workshop got me interested in guided meditations where the instructor's voice guided me to meditate. Looking for help after the workshop, I found that there were many apps for guided meditation.
However, there was something about them that didn't quite feel right. As a design fanatic and an engineering whiz kid, I planned to embark on a quest to find that something, and improve.

Let's Meditate was my answer to this quest.
Challenge: How might one design a meditation app that people fall in love with?
Timeline
2015 and ongoing
Project type
Independent product
Role/Skills
Product: Research, Design, Dev

The Process
Having started this project long before being trained as a designer, I trusted my instincts and followed a process, which I have now come to know as the framework of designing for growth.
However, there was one difference between this framework and the process I followed: My process towards the end was not as linear as it is shown here. After completing a cycle, I would revisit the framework starting from step 2 or step 3 to improve the app in the subsequent updates.
Why? Starting with a competitive analysis of existing meditation apps made sense because I believed it would help me understand the current industry trends and reveal gaps and opportunities that I could possibly tap into.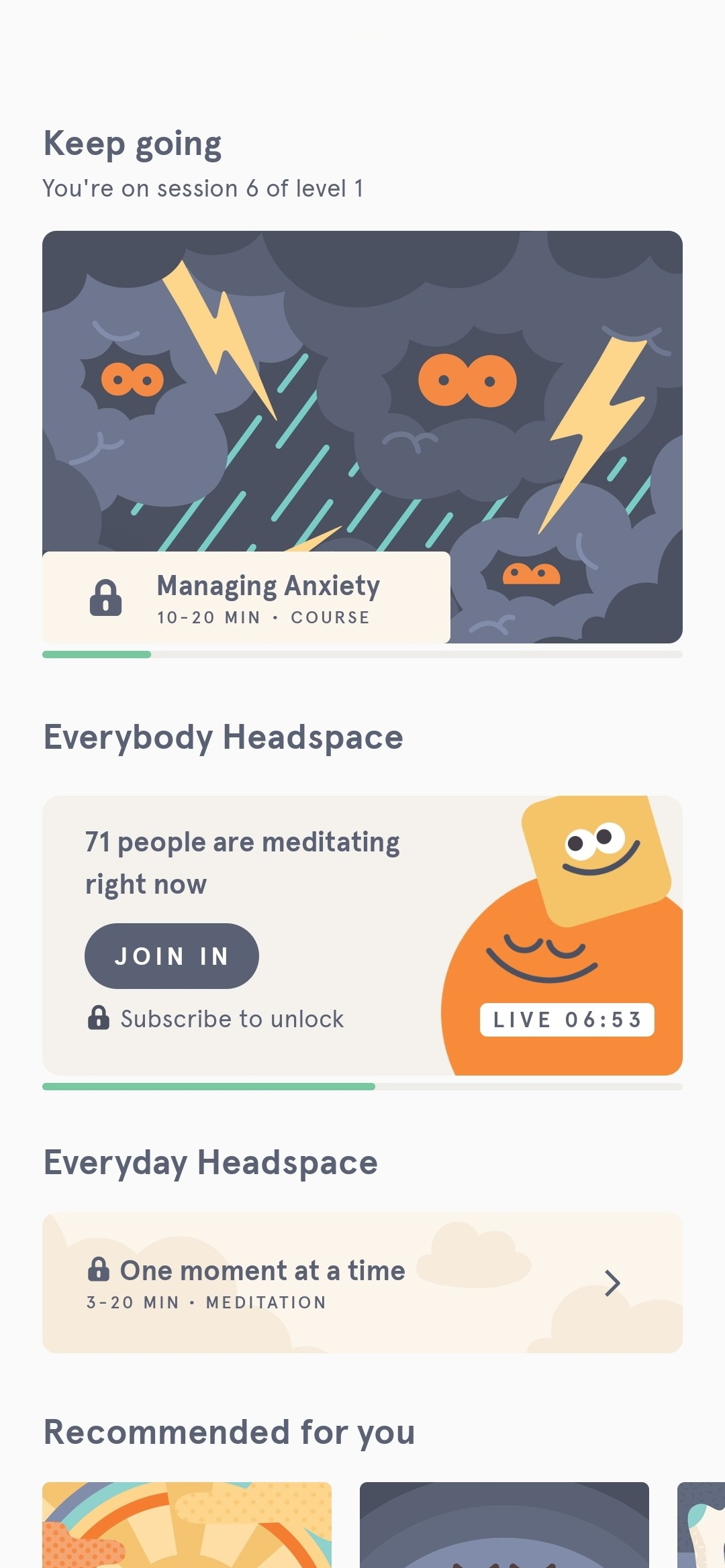 Headspace
Why? I chose to study Headspace because it was the most downloaded meditation app on the Play Store at that time.
Analysis: Headspace valued variety and was, thus, packed with loads of meditations and features. Some of its key features included:
Account management (mandatory sign-up)

All meditations produced by Headspace

Huge catalog of meditations and courses

Premium pricing to unlock full catalog

Daily meditation reminders

Meditation statistics including streak tracking

A friend list to share progress with

Separate categories for meditations for kids and sleep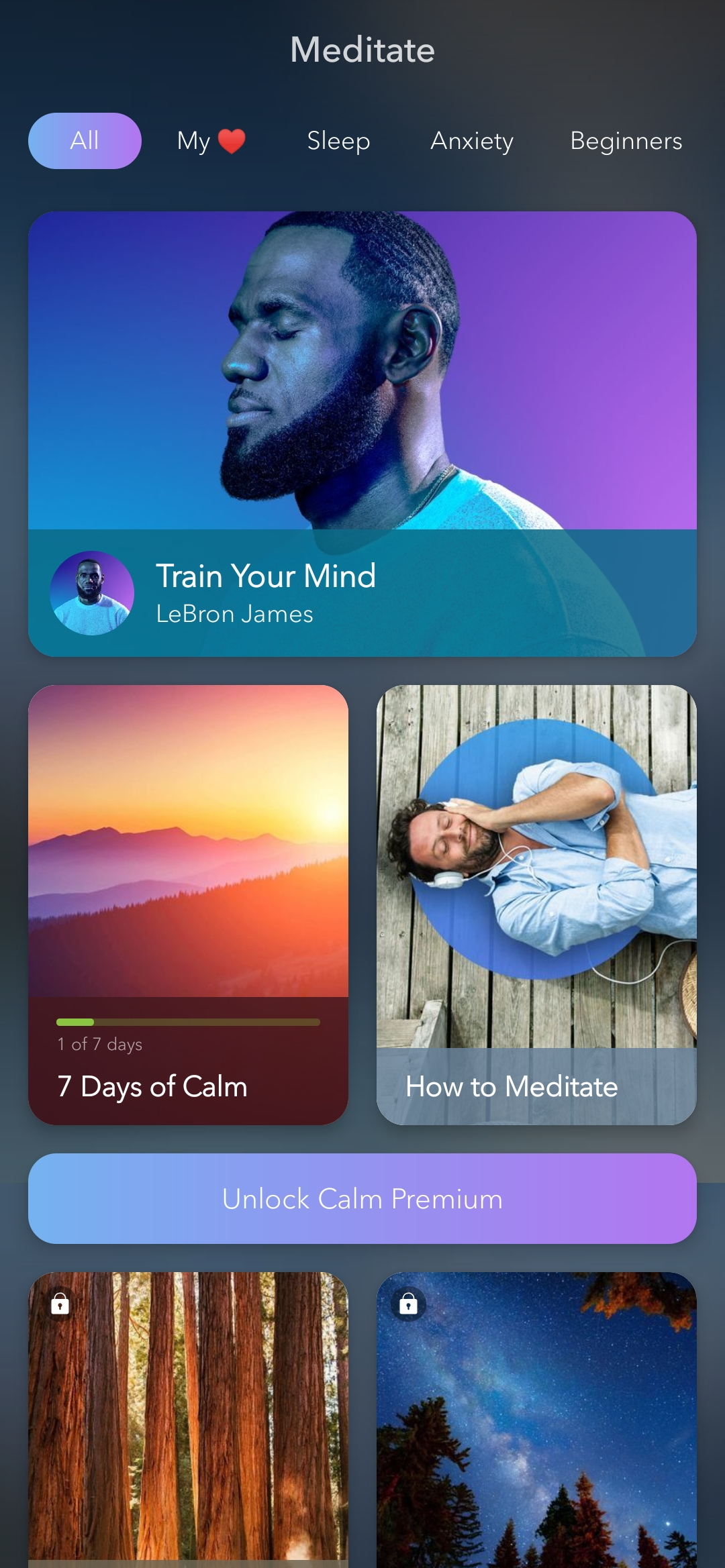 Calm
Why? I studied Calm because there was a clear rivalry between Headspace and Calm as per user reviews. Even search queries like "Headspace versus..." would be autocompleted with "...Calm".
Analysis: The priorities of Headspace and Calm were similar. Calm also prioritized relaxation and sleep along with meditation. Accordingly, its key features included:
Account management (optional sign-up)

All meditations produced by Calm

Huge catalog of short courses and meditations

Premium pricing to unlock full catalog

Meditation statistics including streaks

Daily meditation reminders

Separate categories for music-only audios, kids, sleep stories, and exercise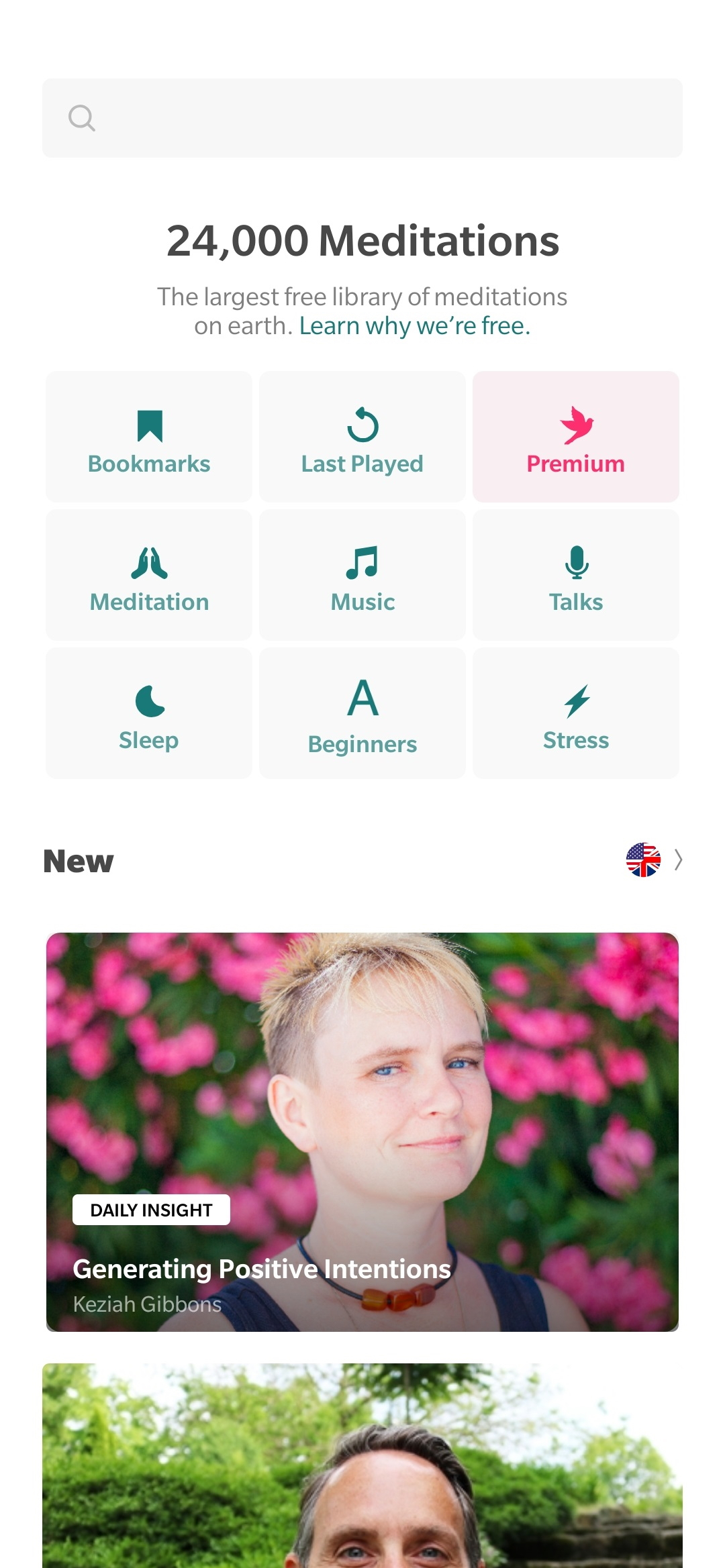 Insight Timer
Why? I studied Insight Timer because it had a very different take on how a meditation app should be, and yet was famous and among the top ones. It seemed interesting to study the reasons why this meditation app was successful.
Analysis: Insight Timer's model allowed meditation teachers to add their own meditations, similar to YouTube's operational model. Some of its key features included:
Account management (optional sign-up)

Meditations produced by independent artists

Ability to follow artists and donate to them

Huge catalog of meditations and courses

Premium pricing to unlock courses

Daily meditation reminders

Meditation statistics including streaks

Bookmarking favorite meditations

Separate categories for sleep and music-only audios
What was common among these apps?

Why? I believed identifying commonalities could help in revealing what other meditation apps thought was important for the users and doing so could help in setting goals for future user research.
Account management
Each app required users to create an account to make use of all the features.


Great collection
Each app had a diverse and huge collection of meditation tracks to choose from.


Minimal player
Each app had a meditation player that allowed a limited number of actions to avoid distractions while meditating.


Progress tracking
Each app had a way to track progress in the form of statistics, some had a very comprehensive tracking while some tracked only selective statistics.


Premium pricing
Each app had locked the majority of its content for a subscription.


Regular reminders
Each app had a daily meditation reminder to remind users about daily meditation sessions and increase user engagement.
Problems in existing meditation apps
Why? These apps did not have the best user ratings, which meant that they were doing something that users didn't quite appreciate. To uncover this, I started reading what their frustrated users had to say and patterns started to emerge.
1. People didn't like creating accounts
Apps prioritized providing a personalized user experience by insisting users and sometimes forcing them to sign in.

However, many meditators preferred diving straight into a meditation session and considered account creation and logging in a waste of time.




2. People didn't appreciate complex workflows
Most apps attempted at offering 'something for everyone' and thus had a lot going on within the available real estate.

Meditators wanted peace of mind, but a busy UI with lots of screens provided anything but that.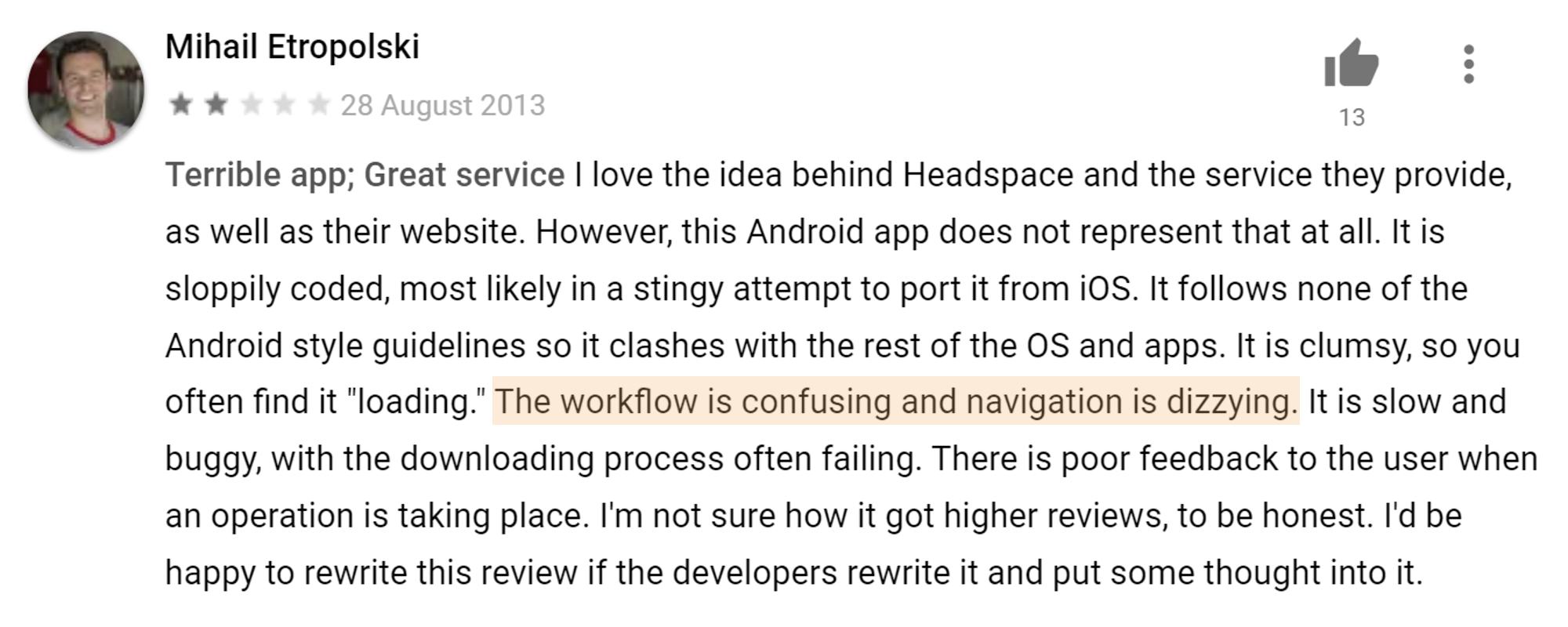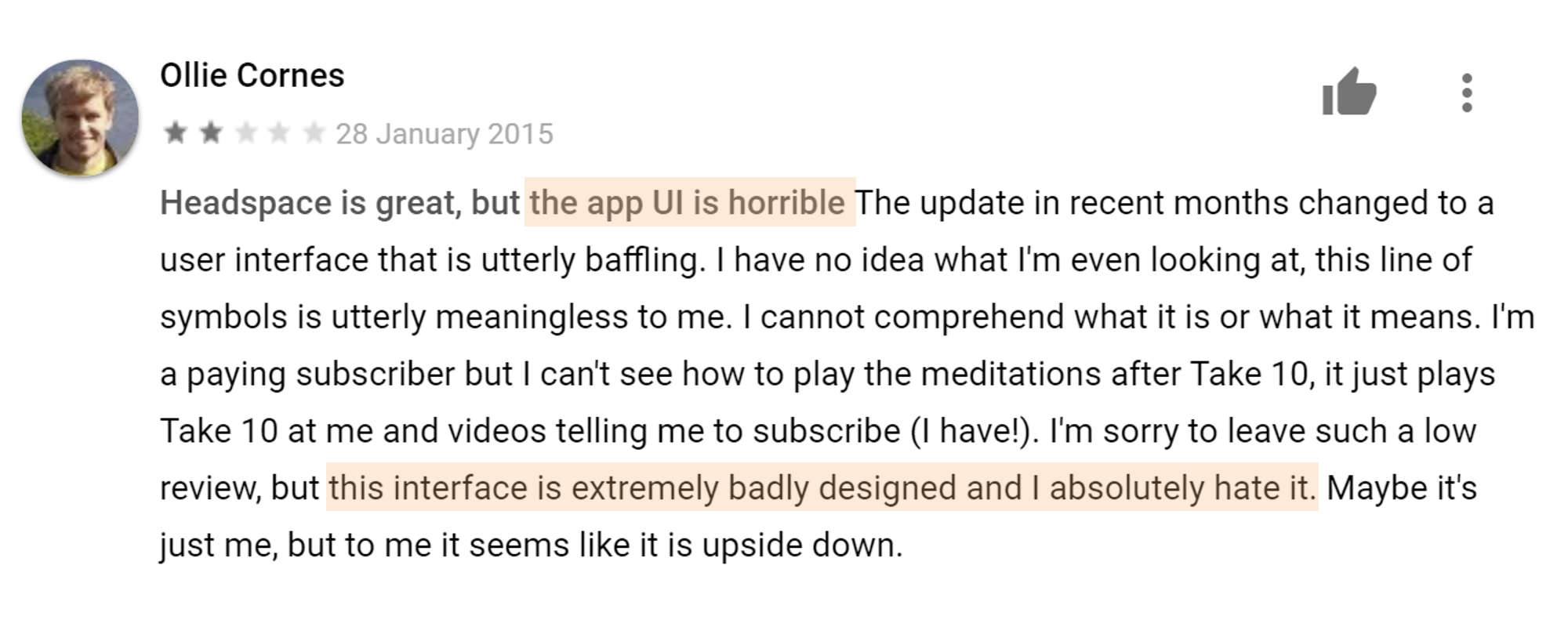 3. Free made it a delight, paywalls ruined it
The operational costs of successful meditation apps necessitated a premium model with low risks and high returns.

Very few people saw value in having to pay for premium meditations. Most people felt genuinely happy to meditate using what was available for free, but utterly dissatisfied when locked content came in their way.




Why? It was time to start making design decisions as I had understood what meditators were expecting from a meditation app. However, making design decisions required design rationale. Defining a set of principles for the app was important now because defining these principles would serve as a foundation for this much-required design rationale.
Principle #1: Keep the bare minimum
"Keep only the necessary elements that almost all users would use, instead of providing loads of features and meditations that most users may or may not use."
Why? Be it by providing a lot of features or by providing lots of categories, existing meditation apps failed to sustain the user's attention. In their reviews, most users unknowingly hinted toward the same principle: Striping off what was not necessary. Doing so would provide the users with an experience they desire as well as allow this app to stand out among the rest.
Principle #2: Prioritize people over profit
"Take actions in sync with the desires of the users and every time you are given a choice make winning the trust of the user a priority over making a profit."
Why? The meditation app industry is a saturated market. If profits are the first priority of a newcomer, it is very challenging to enter such an established market. By finding a way to prioritize the desires of the people over profiting would allow the app to gain traction in the short run, which would, in turn, allow it to stay relevant in the long run.
Why? The principles being in place, this was a good time to start making design decisions to outline the features of the app. Doing so was important as in a way it gave me a checklist of all the things that needed to be taken care of before starting to design screens.
Fewer meditation tracks
Based on Principle #1
Why? A large amount of choice is commonly associated with freedom, however, the paradox of choice states that too much choice causes an overall dissatisfaction and increases the time it takes to make a decision.
Plan: To identify my favorite meditation themes that people must be interested in, and look for 25 to 30 free to use meditations related to these themes or find a vocal artist and get the meditations recorded.
Why would the plan work? About 25-30 meditation tracks would make it easy for meditators to choose a meditation from.

Minimal screen count
Based on Principle #1
Why? The number of screens in an app is usually directly proportional to the time it takes for a user to learn the workflow of the app.
Plan: To design a single screen with a list of meditations, tapping on any meditation would start playing the meditation in a dialog instead of a separate screen.
Why would the plan work? Having one screen would allow for a gentle learning curve, enable users to jump right into a meditation session as other navigation will not be possible.

Limited feature set
Based on Principle #1
Why? Rolling out an app with a list of features that people have not yet asked for would hamper the minimalism of the app as well as increase the development costs.
Plan: Provide no other feature other than letting the users view the meditation list, download any meditation (thus also providing offline support), and play it without ever having to download that meditation again.
Why would the plan work? 1) The extra features within a meditation app are good to have, but not must-haves. 2) People prefer downloading once & using any time, over streaming every time.

Ad-less and free to use
Based on Principle #2
Why? Advertisements worsen the user experience and do not go well with meditation apps. They also hamper user trust. Adding an advertisement would mean prioritizing profits over user experience, which would go against Principle #2. Finally, having learned that people don't appreciate the premium model, it was a good idea to be creative and find a different revenue model.
Plan: Do not limit the app experience by locking a certain set of meditations or features for a paid plan or by showing ads. Find a way to monetize the app either through crowdfunding or donations.
Why would the plan work? Designing an app that people fall in love with should eventually result in people helping out by donating. The accumulated donations will be sufficient to keep the app running in the long run.
Why? Designing low fidelity wireframes before finalizing the design and starting to develop the app was a good idea as it saved a lot of the development times by giving a clear picture of how the screens looked and revealing design flaws early in the process. Each screen has been discussed below.
Screen 1 - Home: List of all meditation tracks
The home screen was planned to be as simple to understand as possible. And so, I placed all the list of meditation tracks right upfront on this screen. My assumption was that this would allow meditators to not get distracted and jump right into their meditation sessions.

However, as the screen was made available to more people, I got comments that mentioned the difficulty in choosing a meditation. As a result, I added meditation descriptions, sorting options and bookmarking features which eased the process of choosing a meditation track and jumping right into the practice.

Screen 2 - Meditation player
Connecting back to the planned minimal screen count, I chose to make the player a dialog instead of a separate screen. My assumption was that this would make the navigation minimal in the app and users would appreciate this.
However, I was completely wrong about this because meditators preferred a separate screen for the player. They mentioned that having a meditation play within a dialog along with the home screen visible behind the overlay distracted them and made them feel anxious. I acted upon this feedback and dedicated a separate screen to the player and designed it in a minimal way so as to not include anything that distracts the meditator.

Screen 3 - Settings and more
The settings screen was designed after there were requests for additional features. None of these features were fit into the home screen to keep it clean and a new screen was designed. Gradually, people requested more features like the meditation progress in the form of statistics or an option to add additional reminders. This could easily be done now that there was a separate screen for it.

App wireflow
The final iterations discussed above are put together to form a wire flow diagram below. Both from a designer's standpoint and a developer's standpoint, a diagram like this one gave me a clearer understanding of the screens, the interactions, and navigations involved within the app.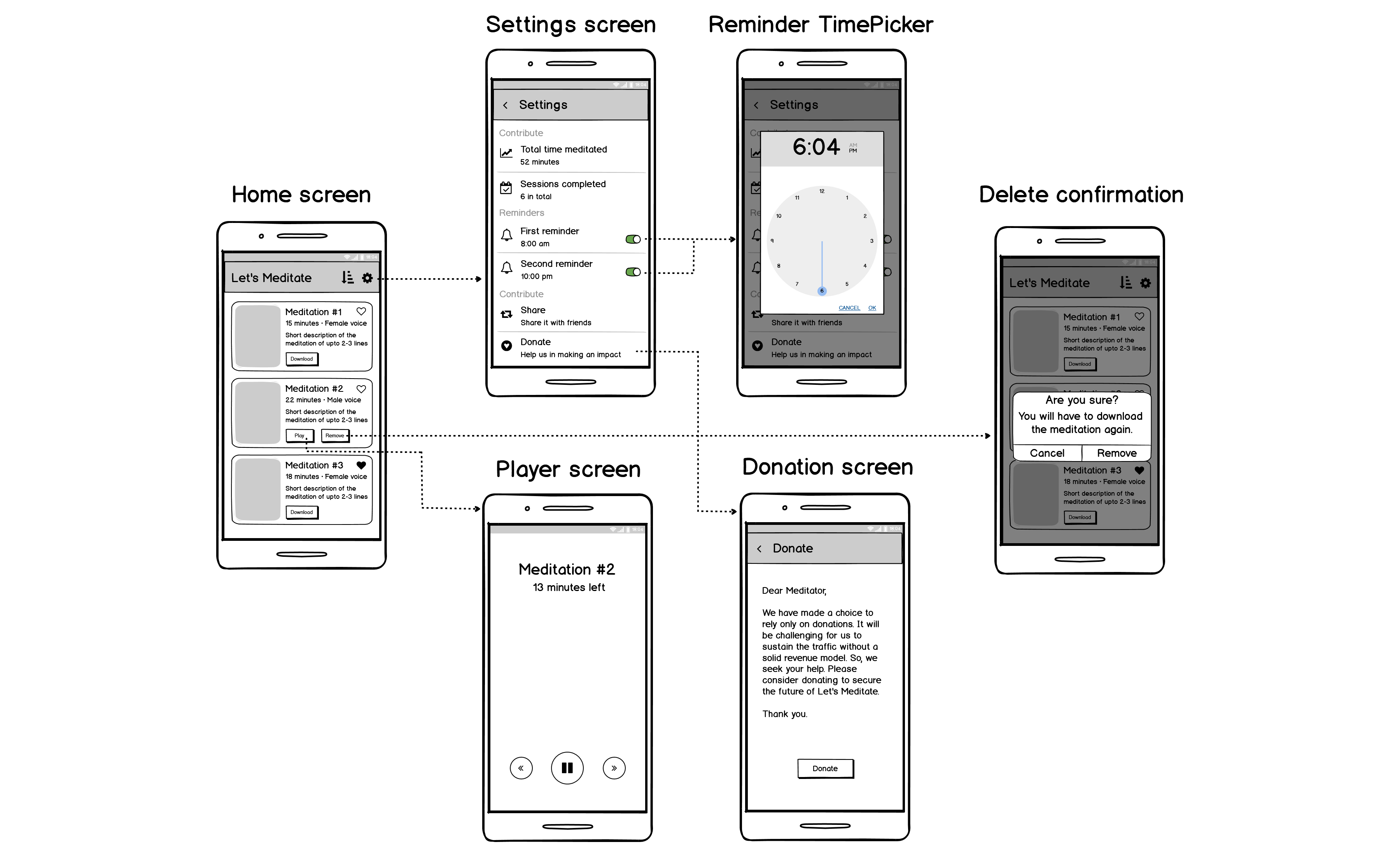 Design decisions & rationale
Why? This step was an attempt to standardize various design elements of the app for consistent user experience, and to ensure an identity for the app that is unique and yet familiar across the Android ecosystem.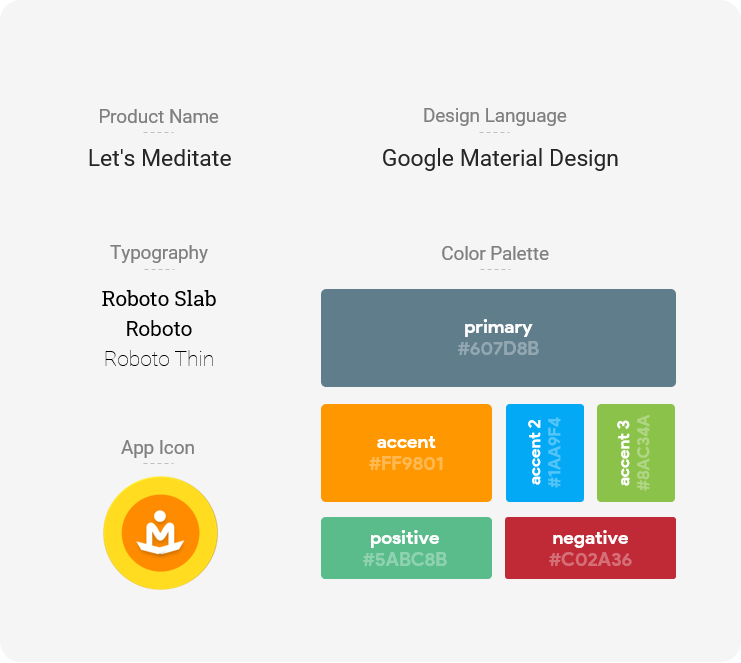 Product Name

The most important factor of Play Store SEO happens to be the app name, which decides where the app will be positioned when a user searches for a keyword. Thus, the word 'meditate' had to be included. I chose Let's Meditate because it also was an actionable phrase.
Design language, Fonts, Palette
Using Google's established material design was a safer bet as users were familiar with the design. As a result, even the fonts and the color palette was inherited from its design guidelines. I chose gray as the primary color because it stands for balance and neutrality and doesn't evoke any strong emotions, and that combined with the bright accent colors were to add a tint of optimism and energy.
App Icon
The app icon is the letter M arranged in a way to depict a practitioner meditating. I used the accent color orange around it as it was a more positive color compared to the primary color grey. Yellow, the color of high energy, attracts people's attention. As a result, I encircled the icon with it so people notice the app often and are reminded to meditate.
How is the app performing?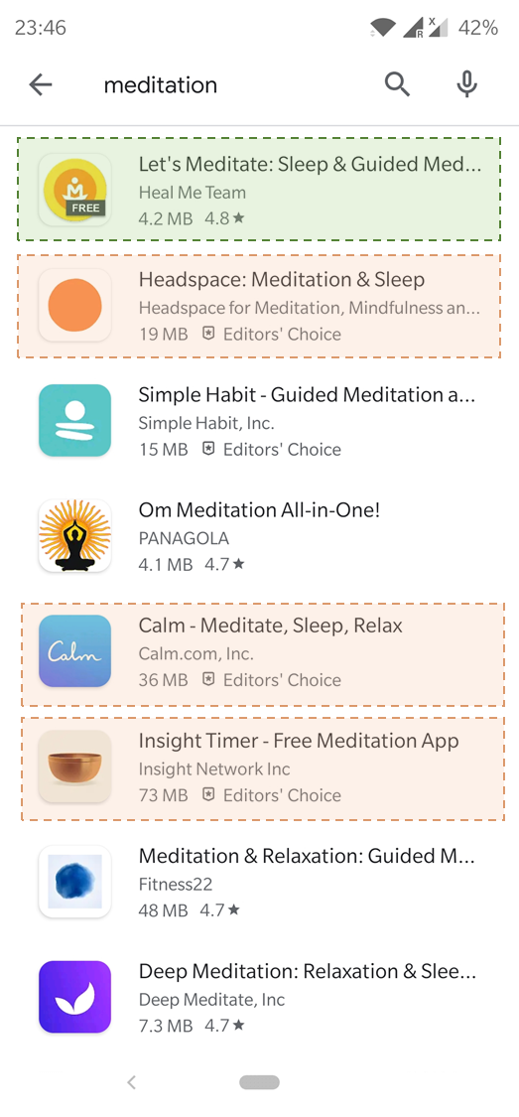 Ranked #1 meditation app on Google Play Store
Since Q4 of 2019, Let's Meditate has been ranking on top when searching for meditation apps on Google Play Store. The meditation apps Headspace, Calm and Insight Timer stood at #2, #5 and #6 respectively as of 01.24.2020.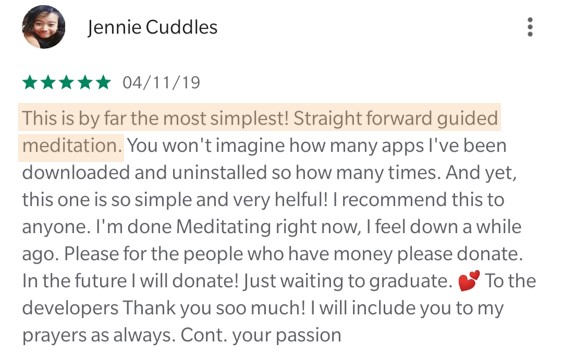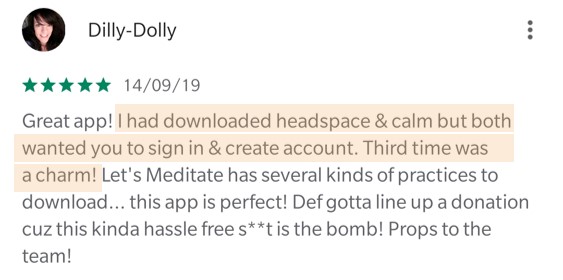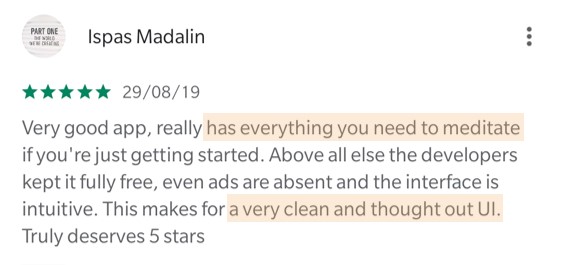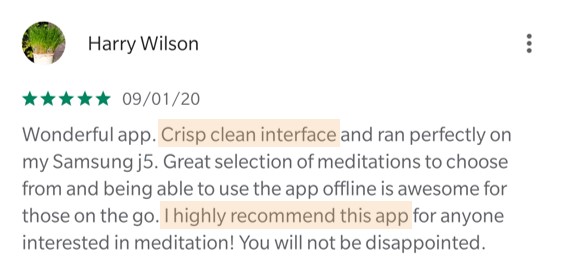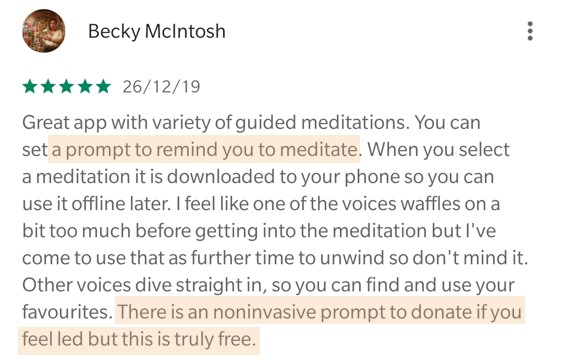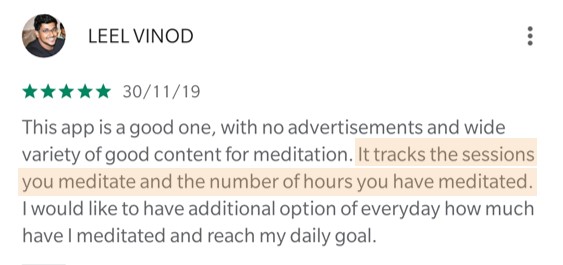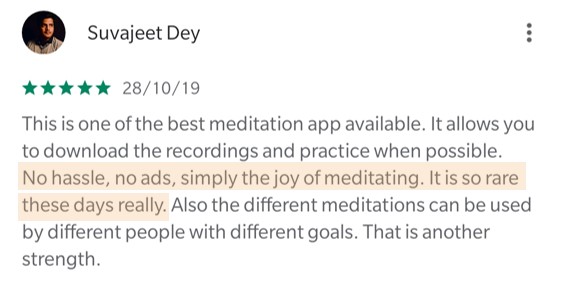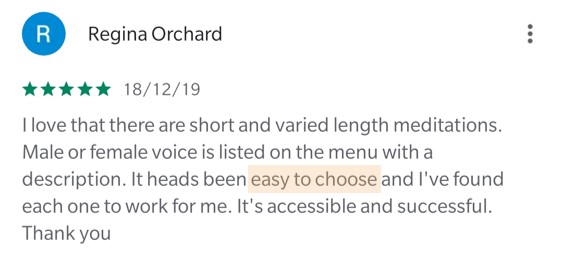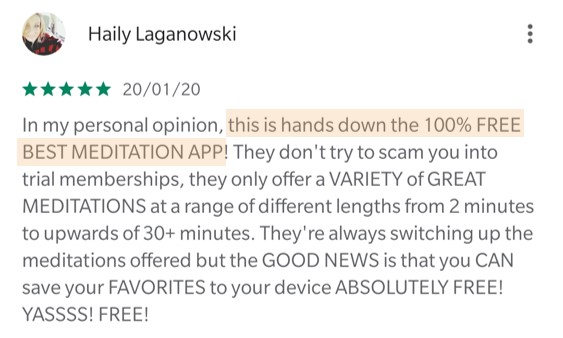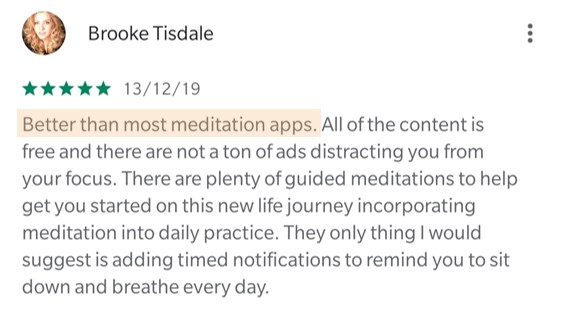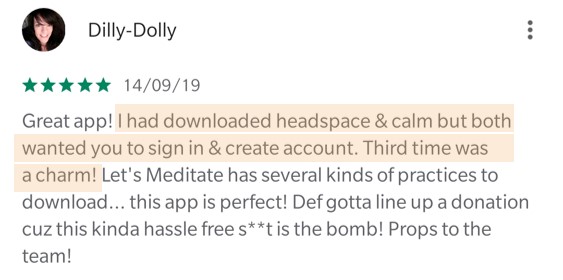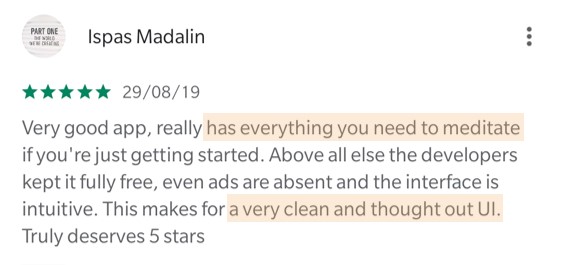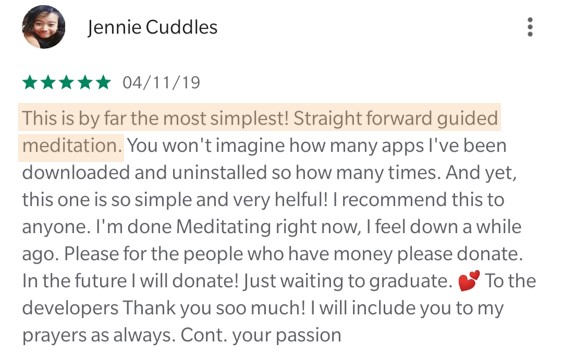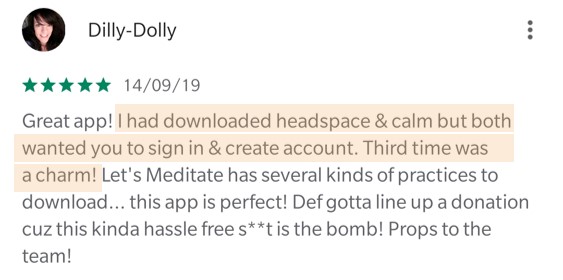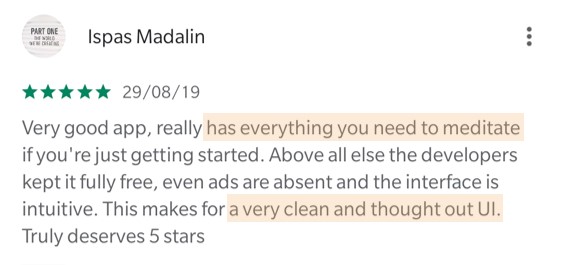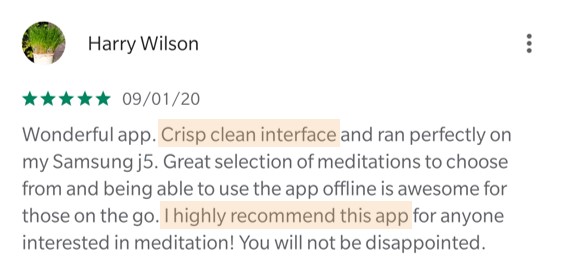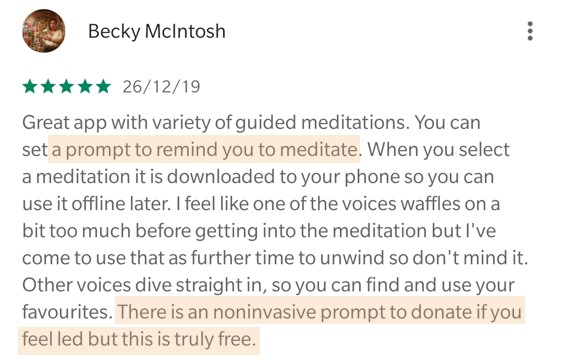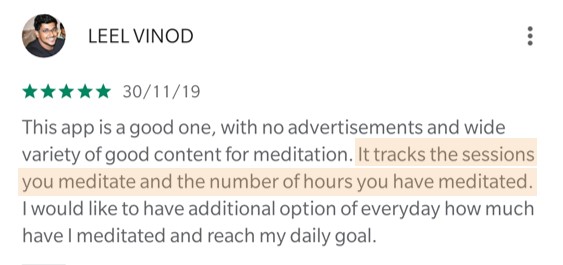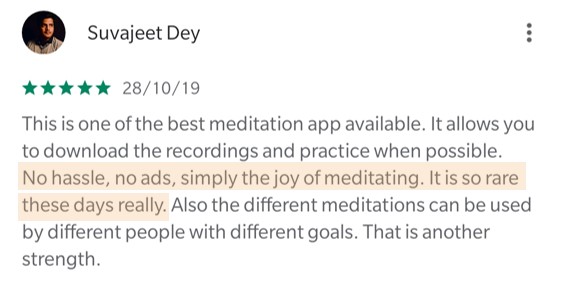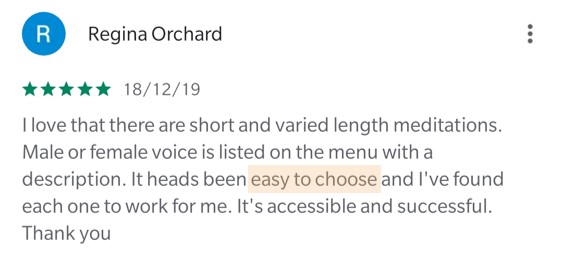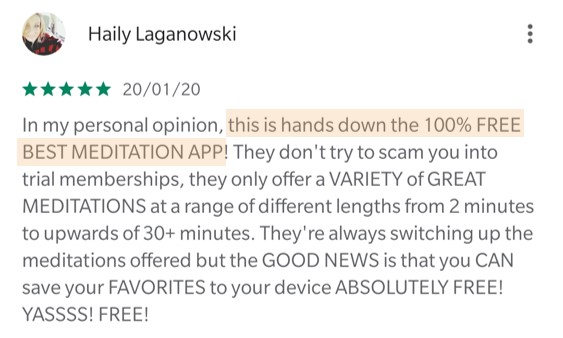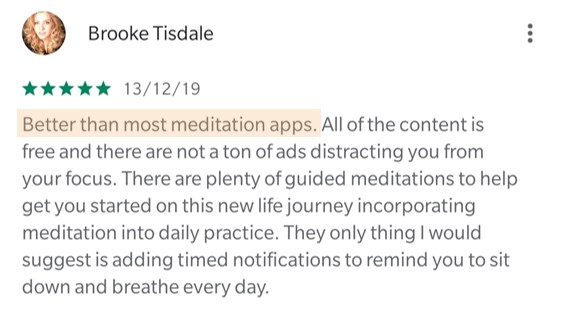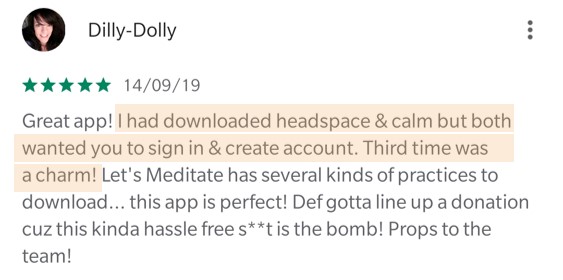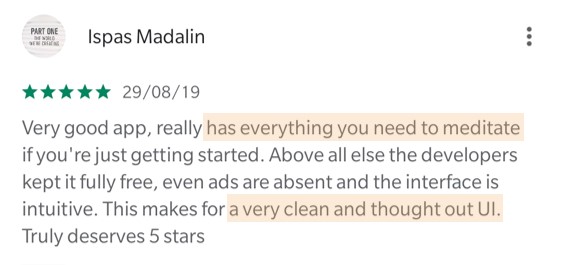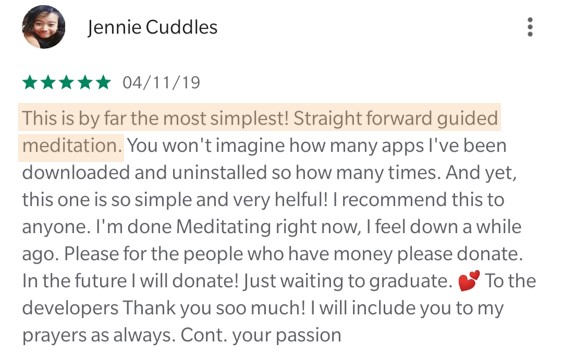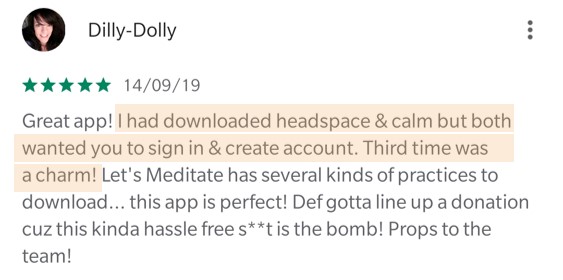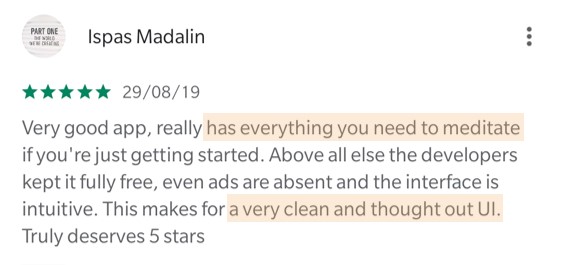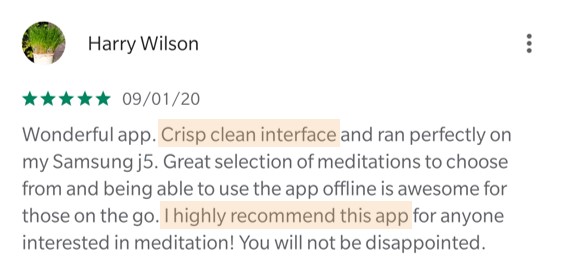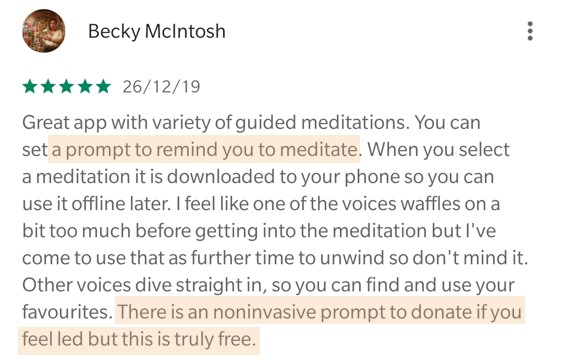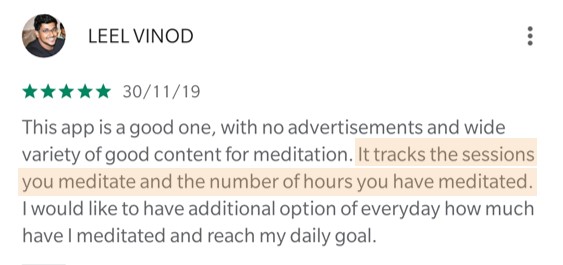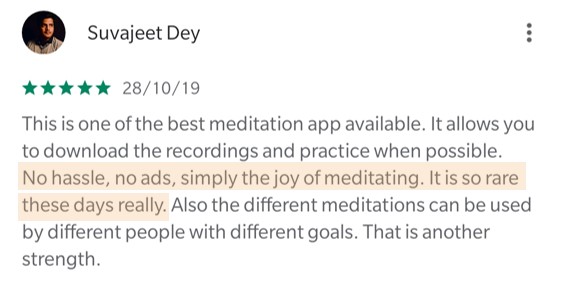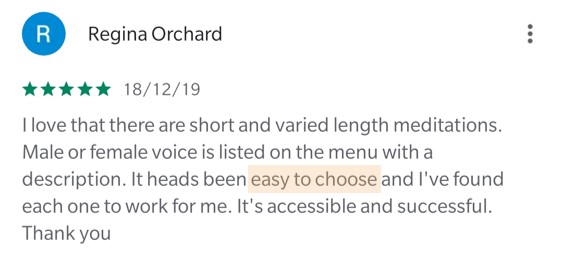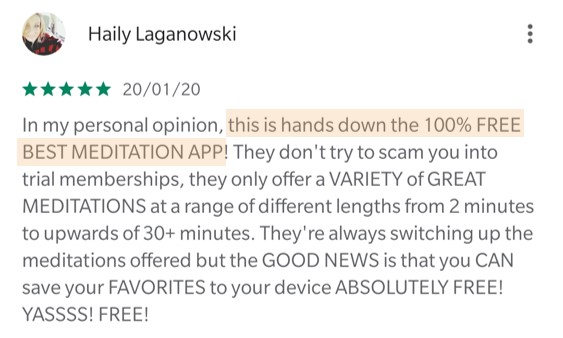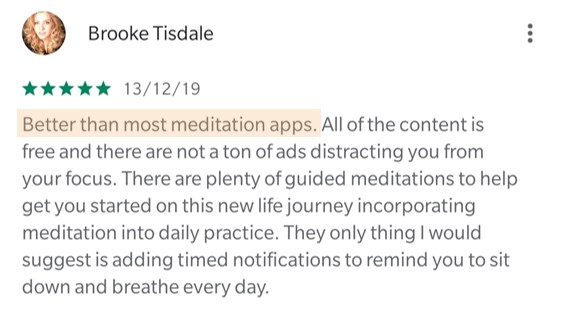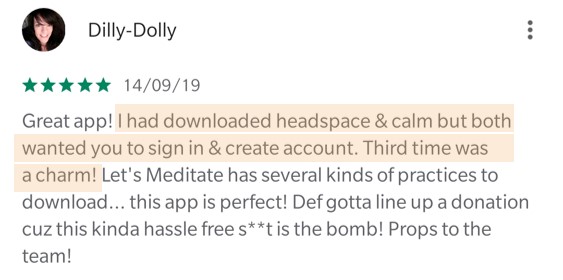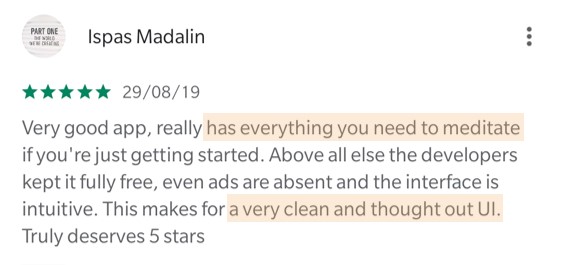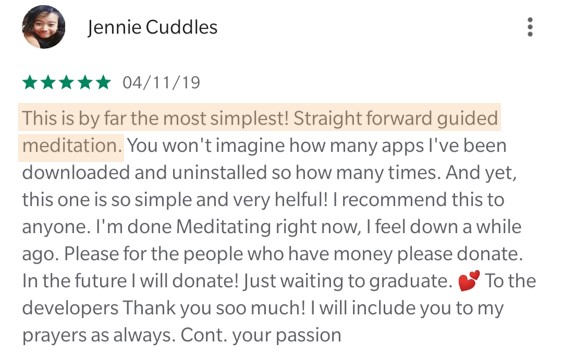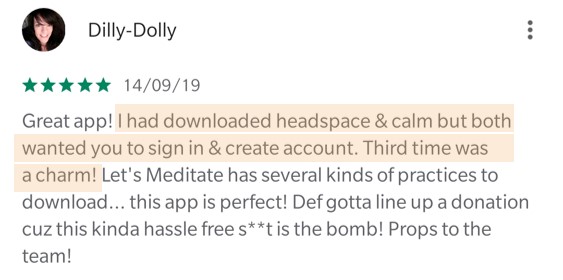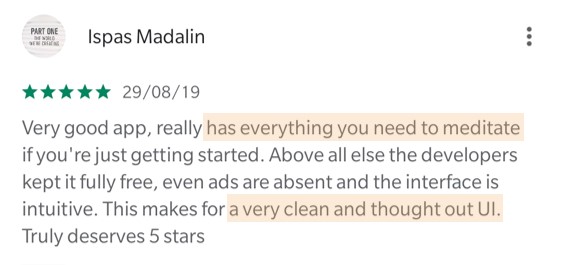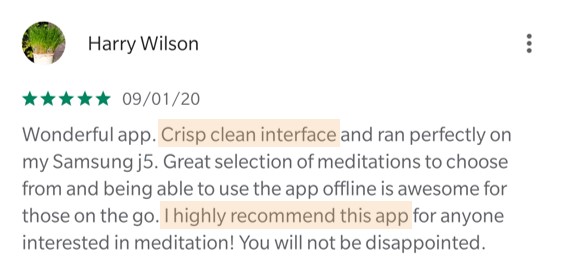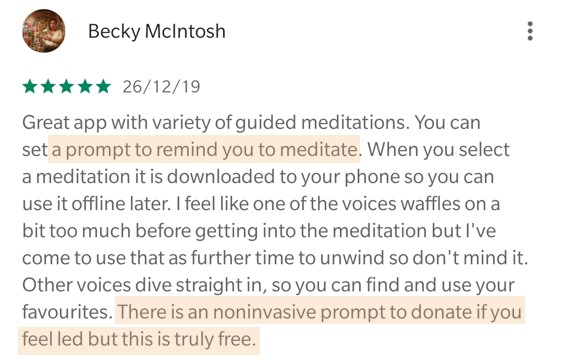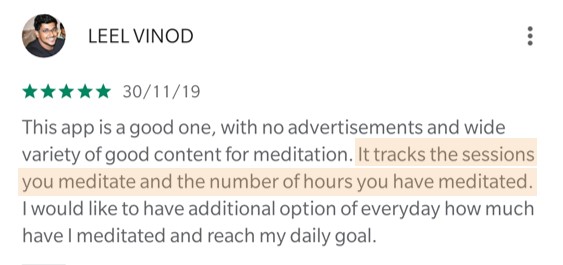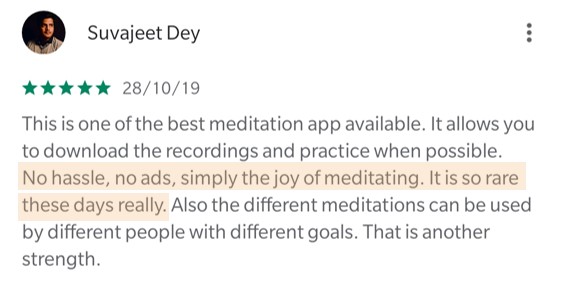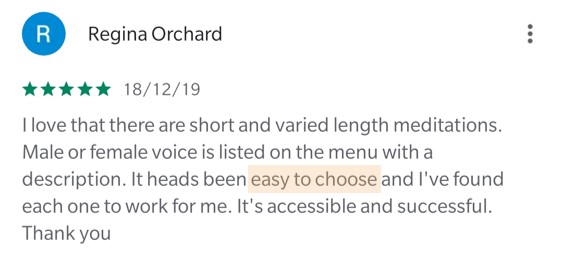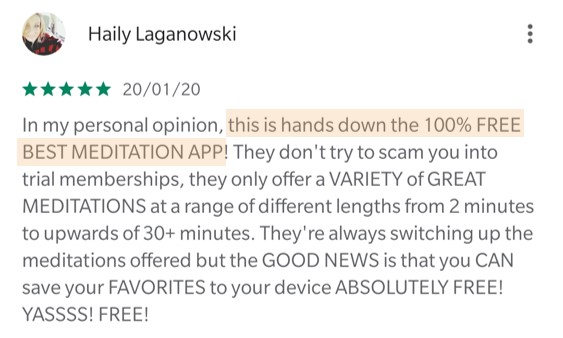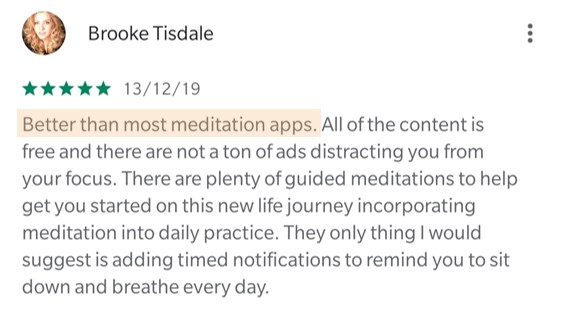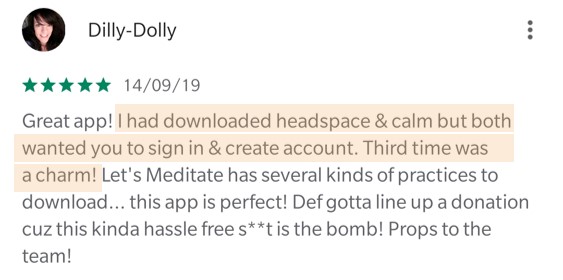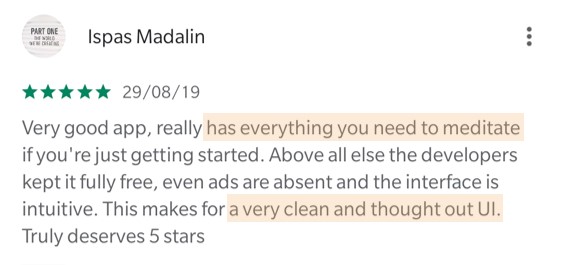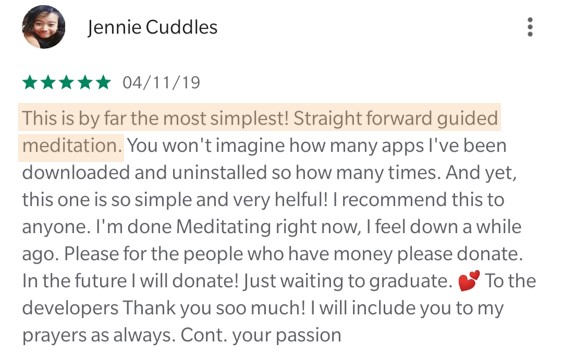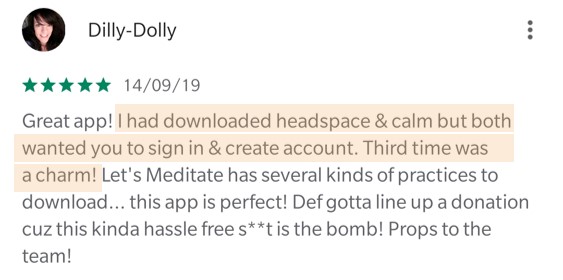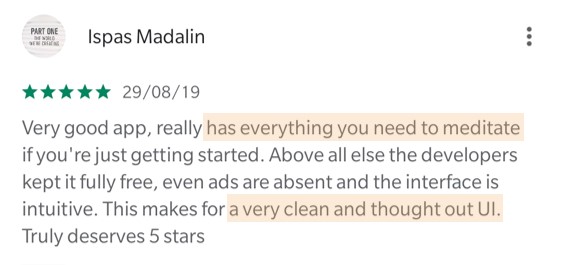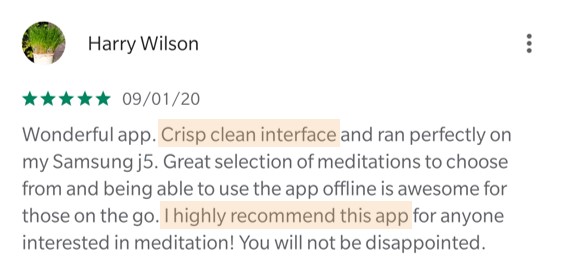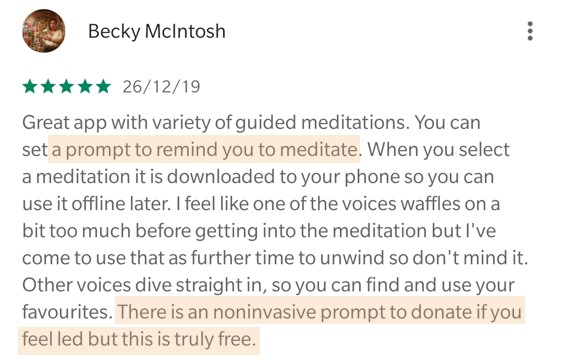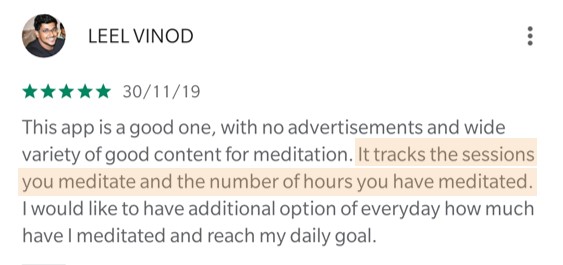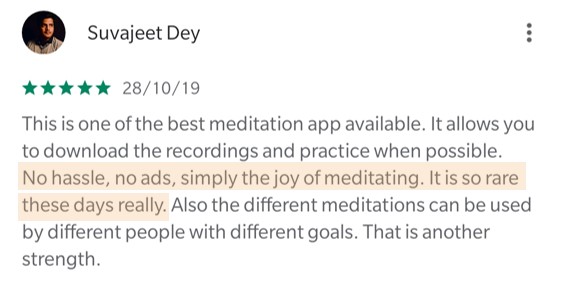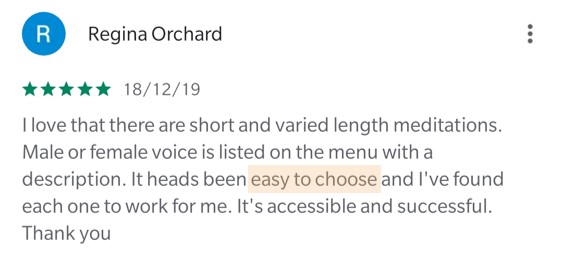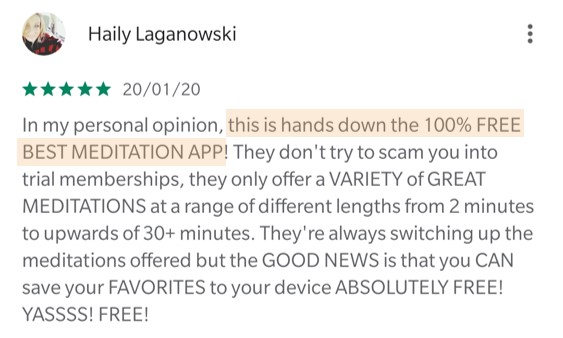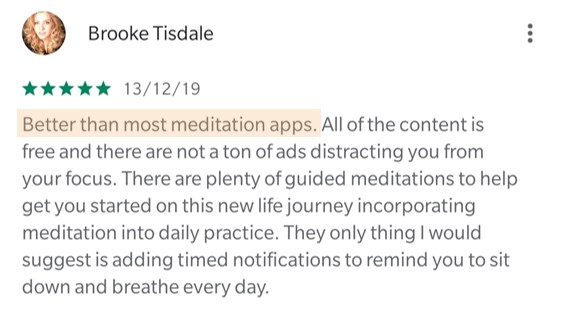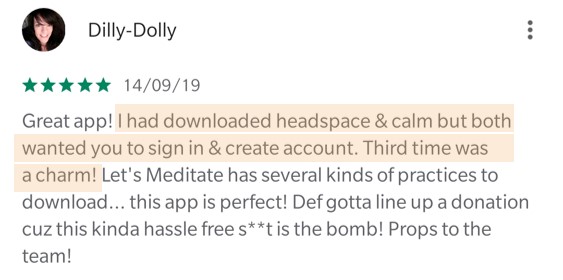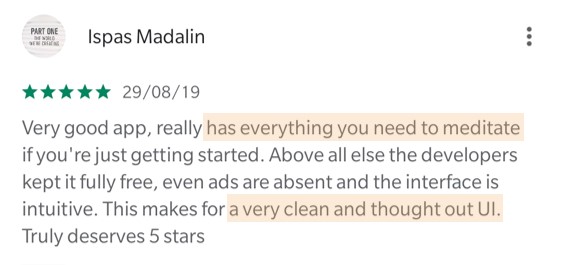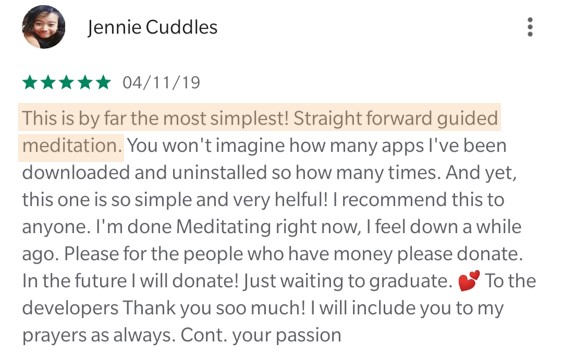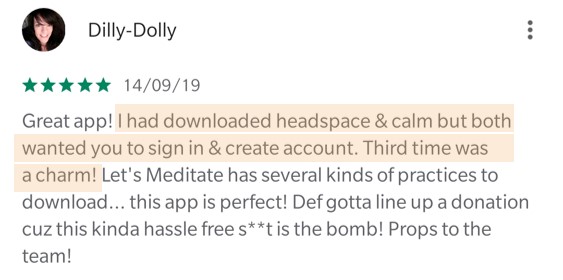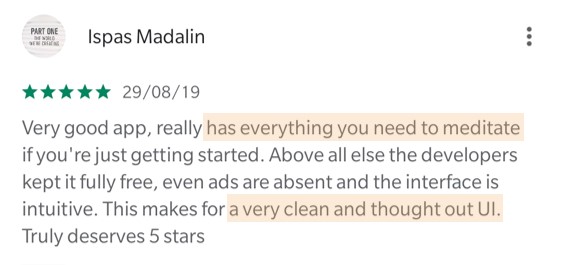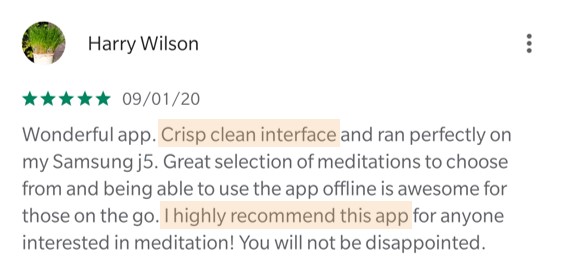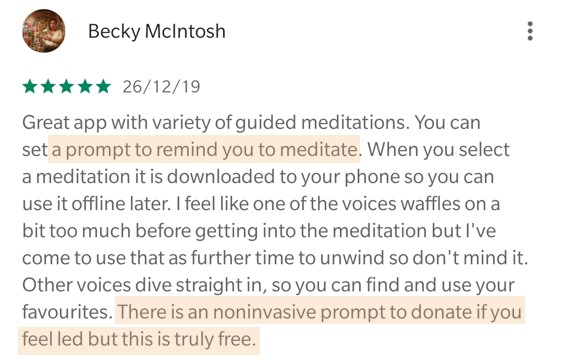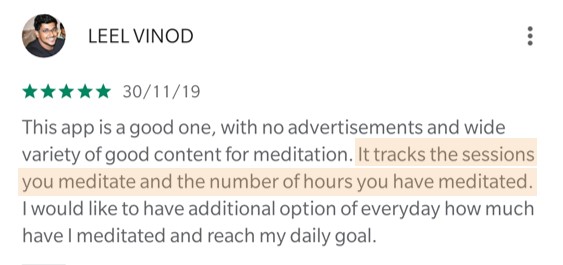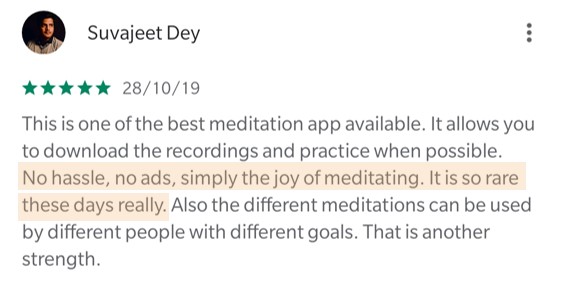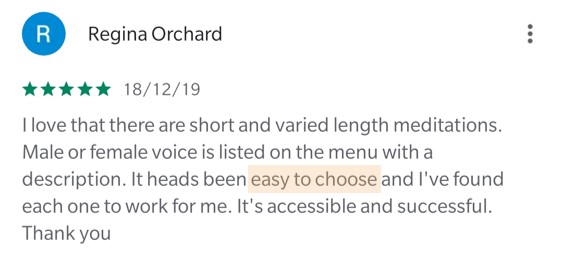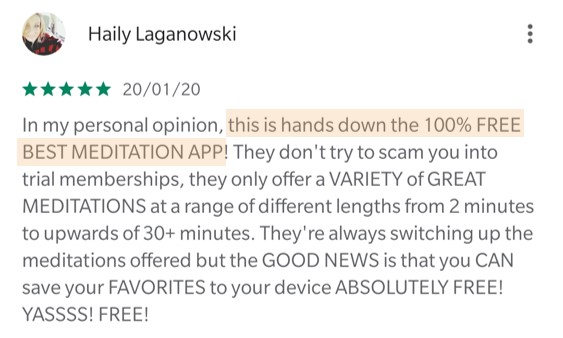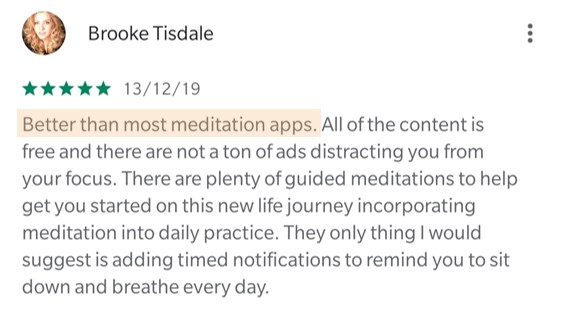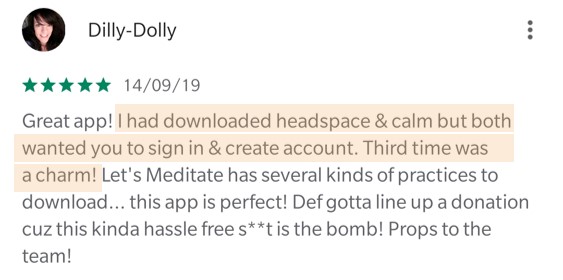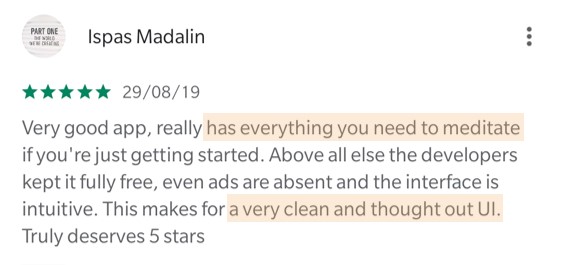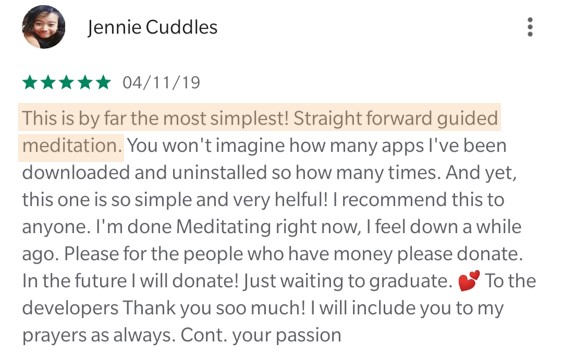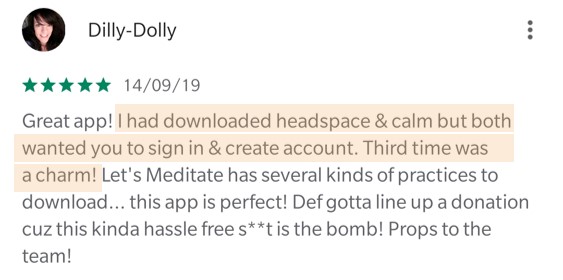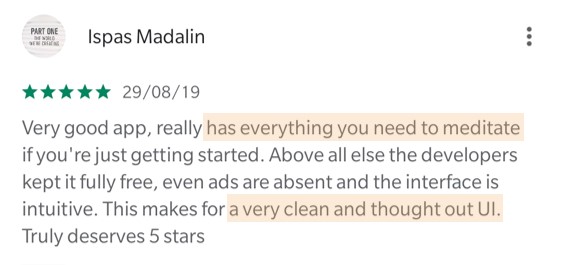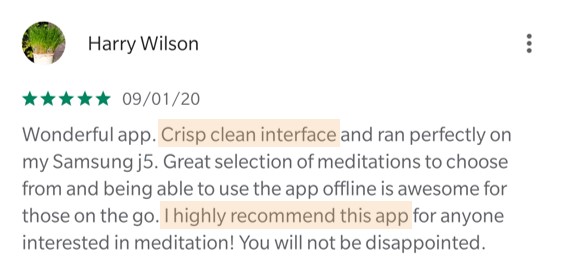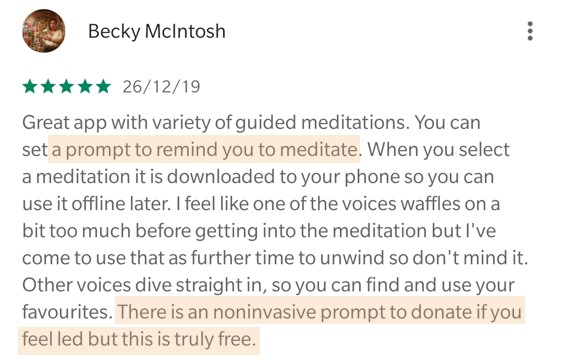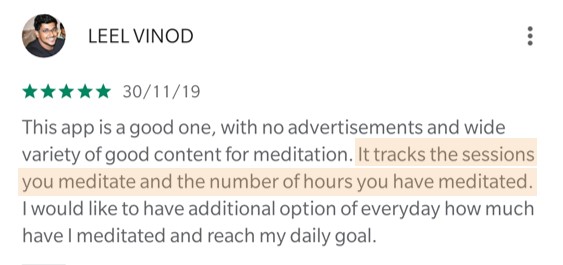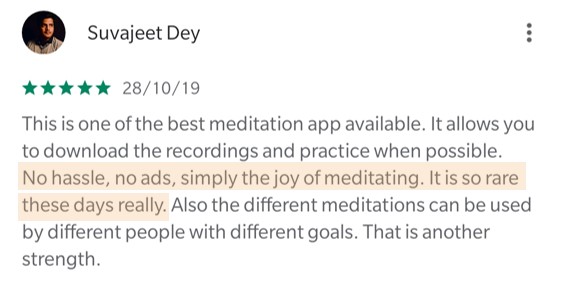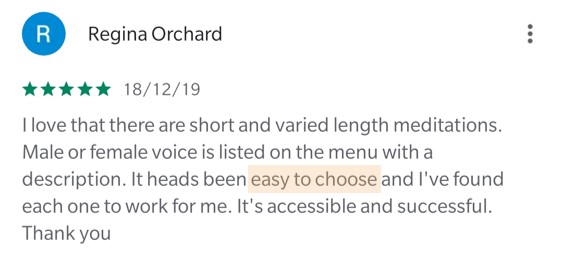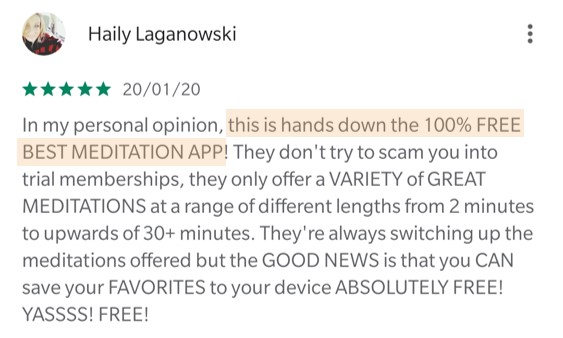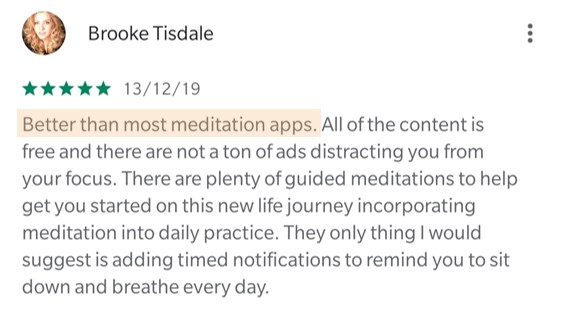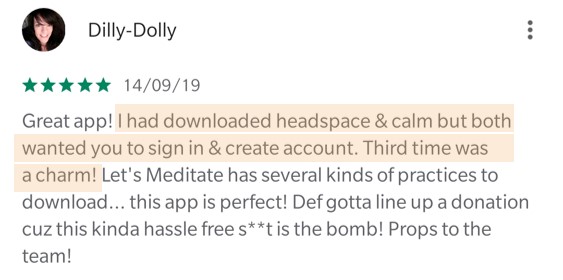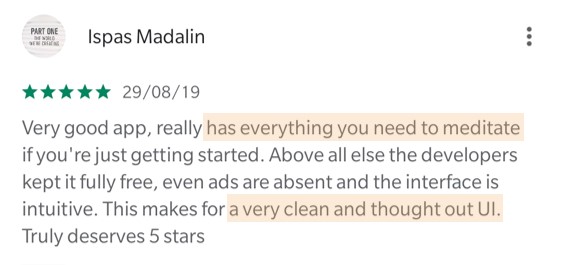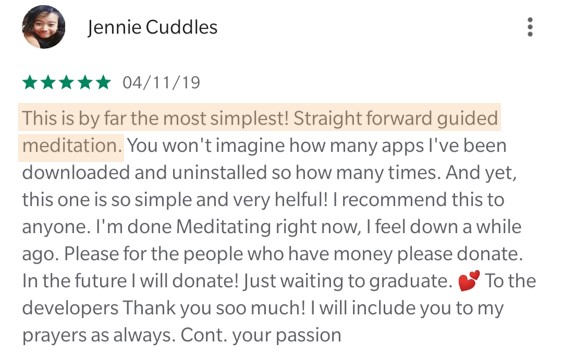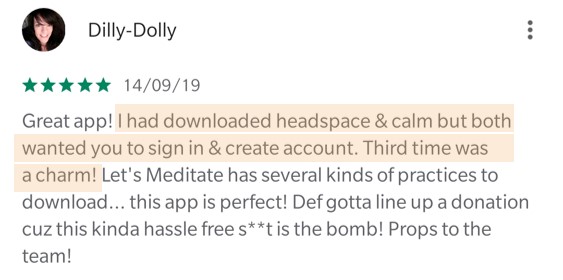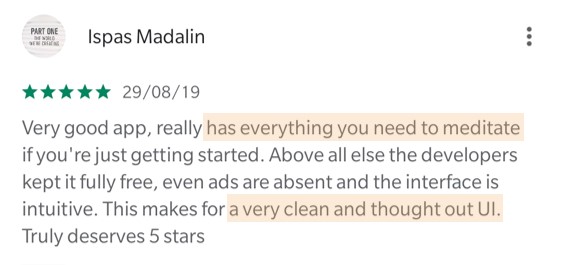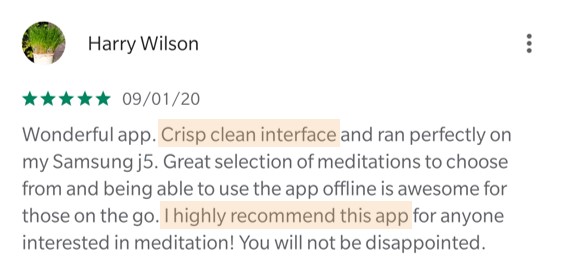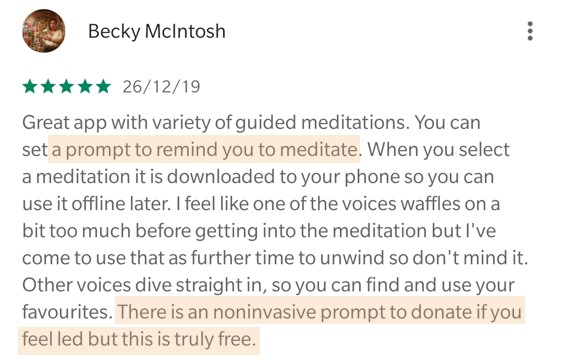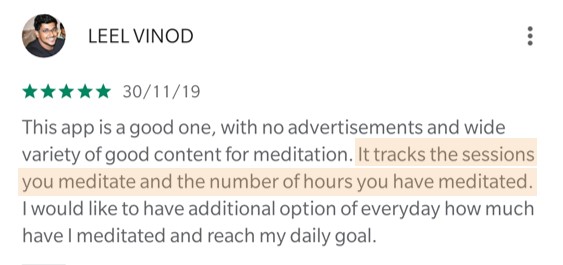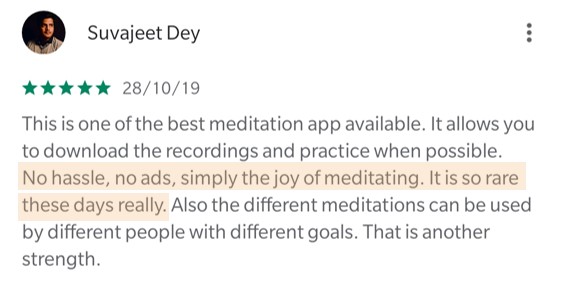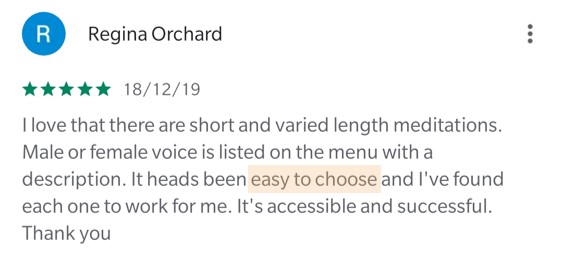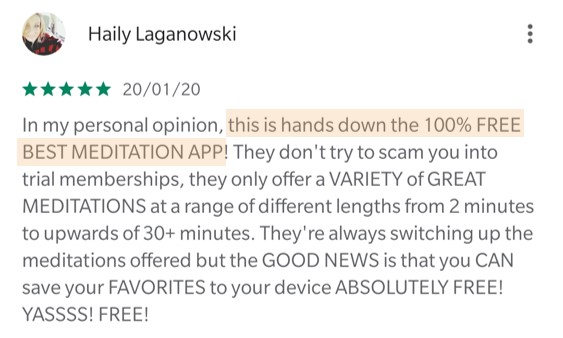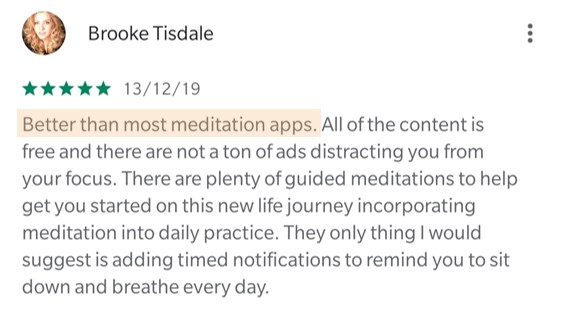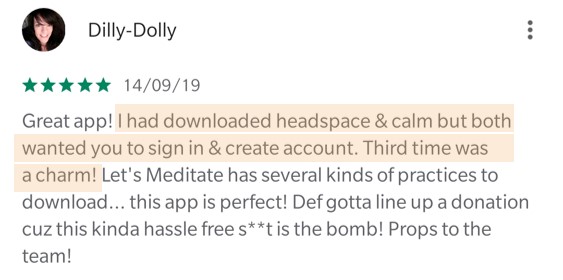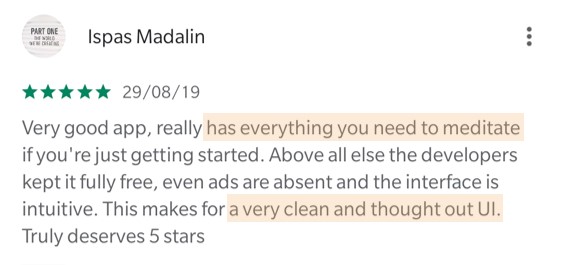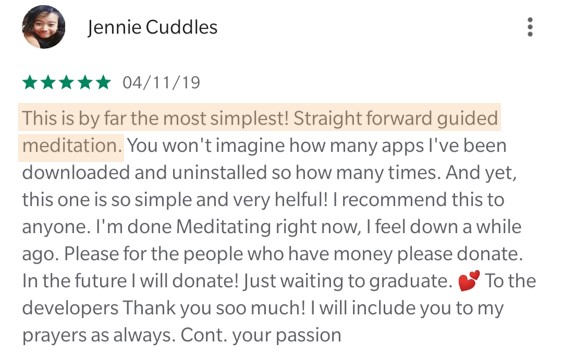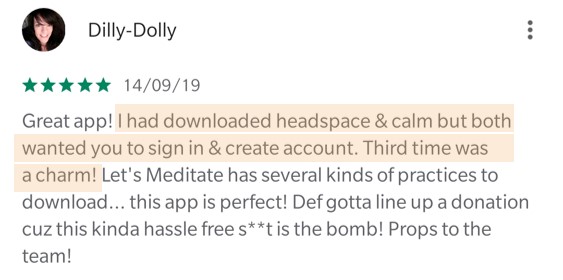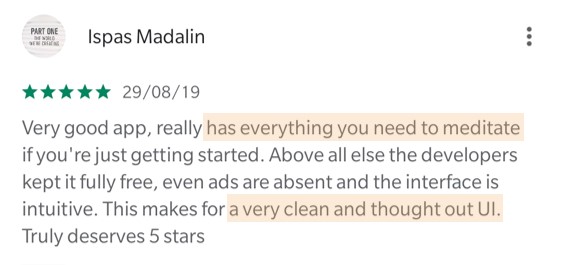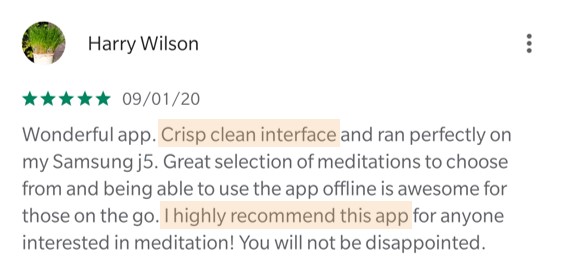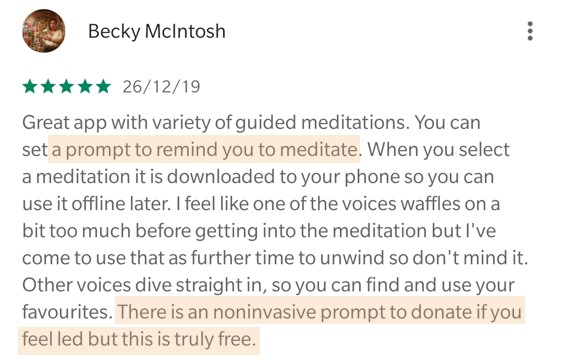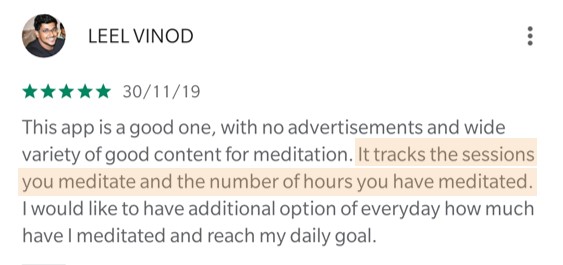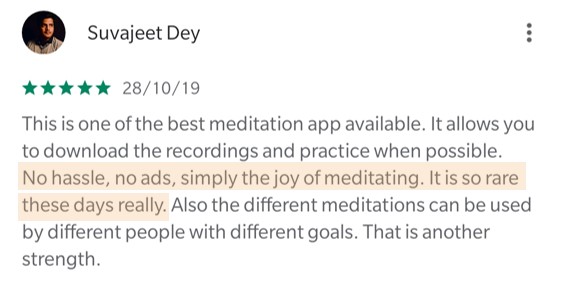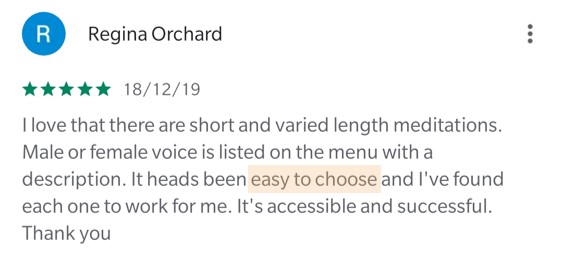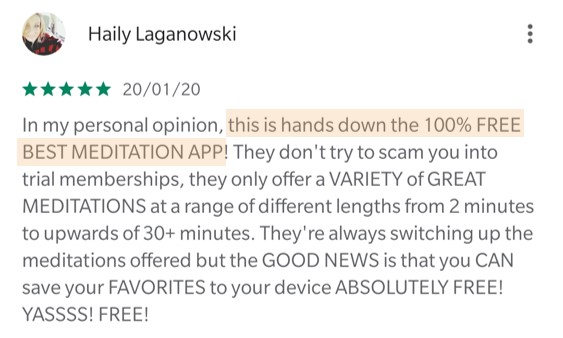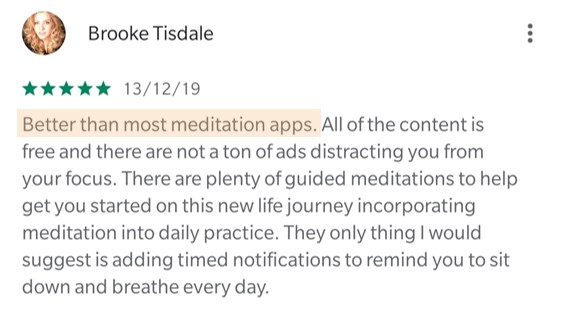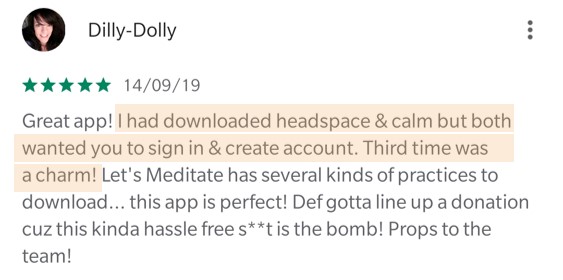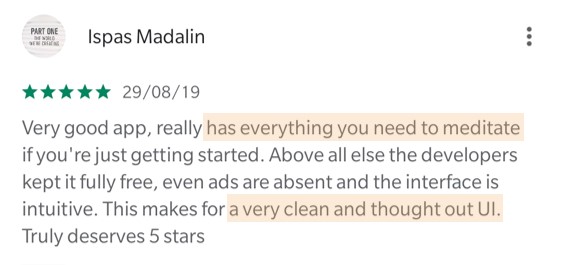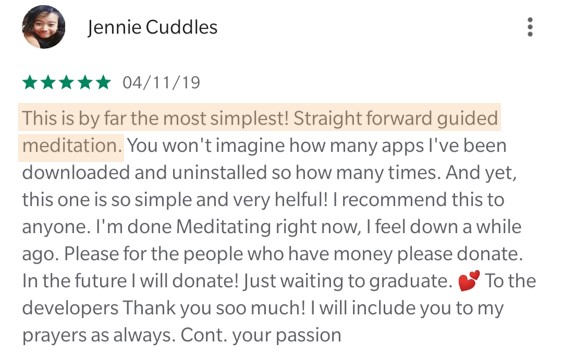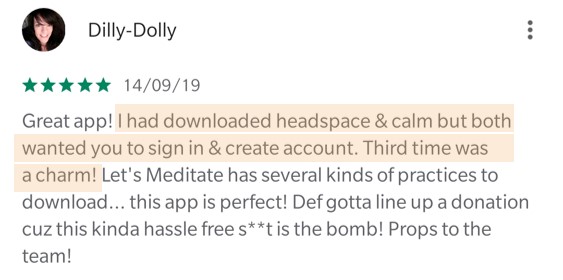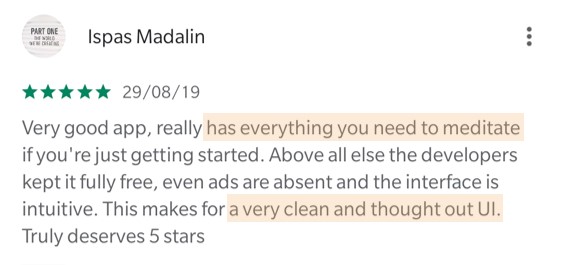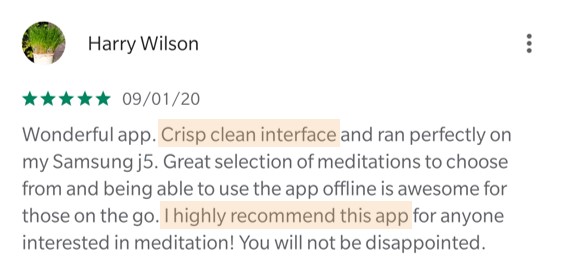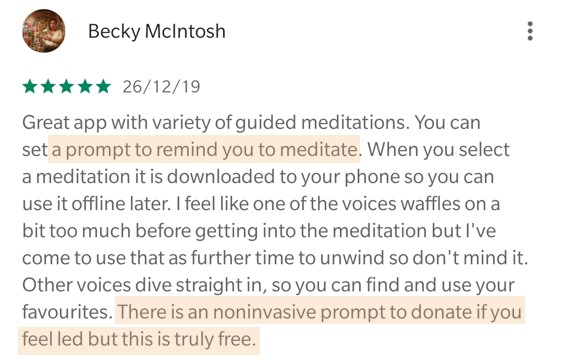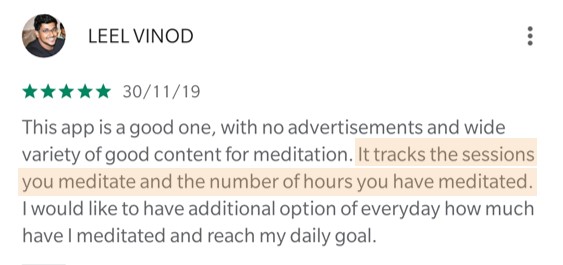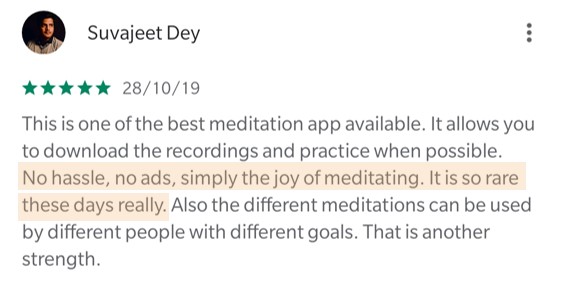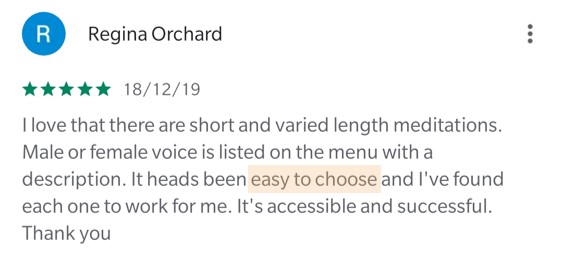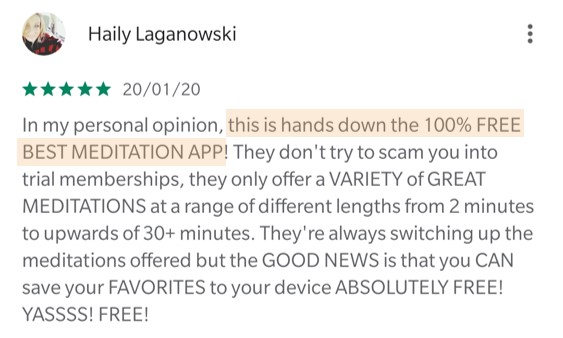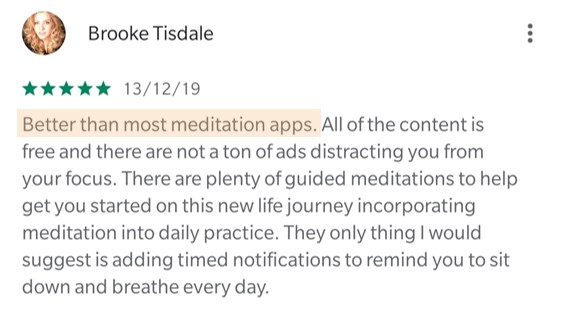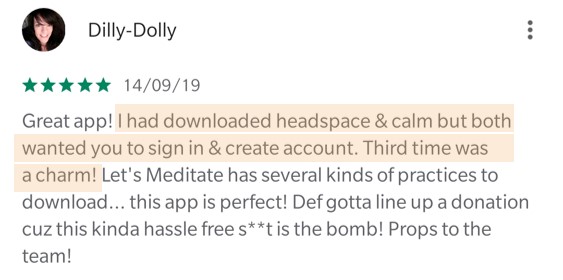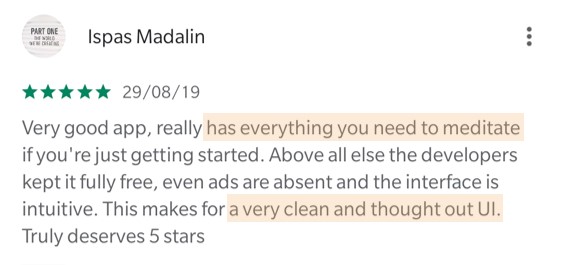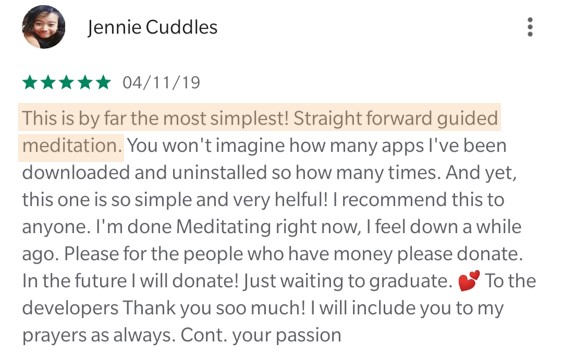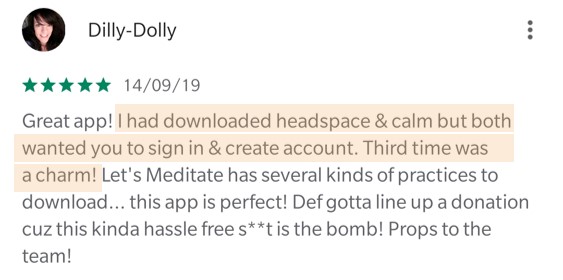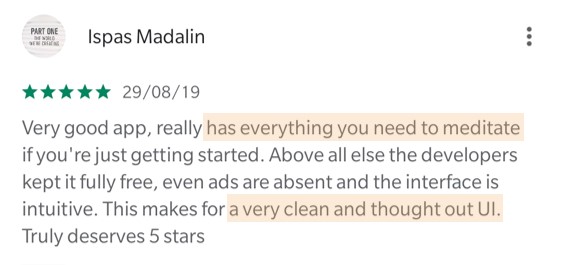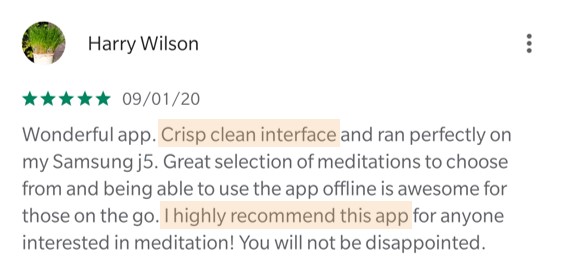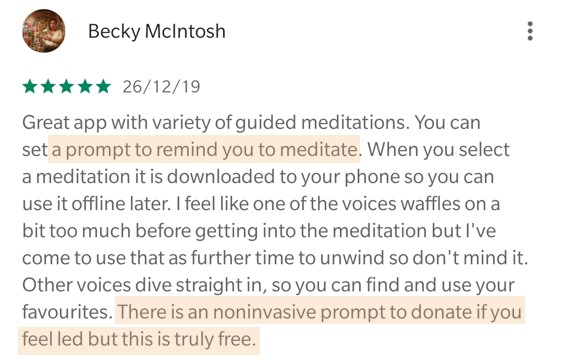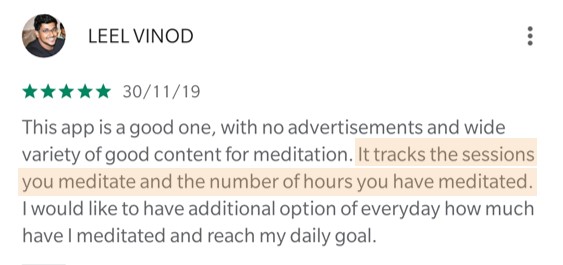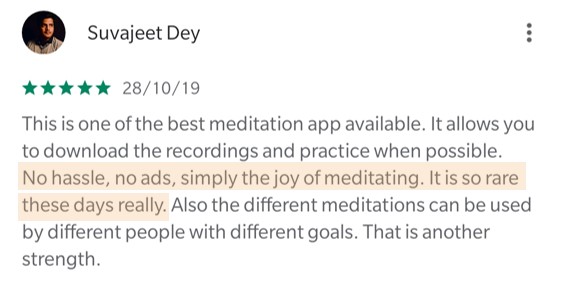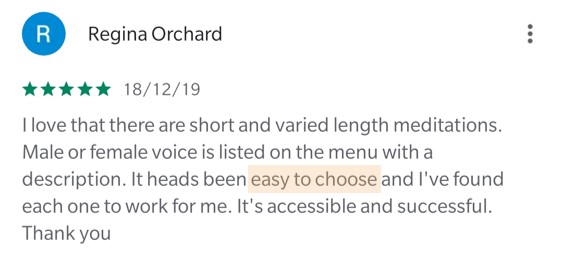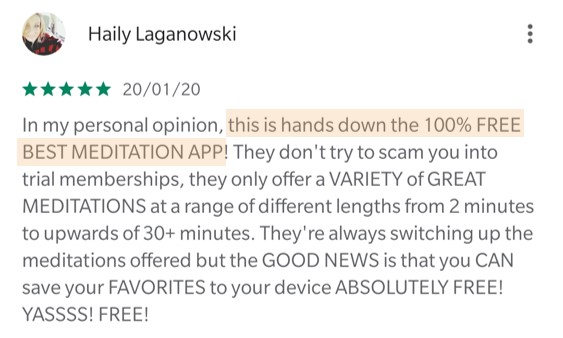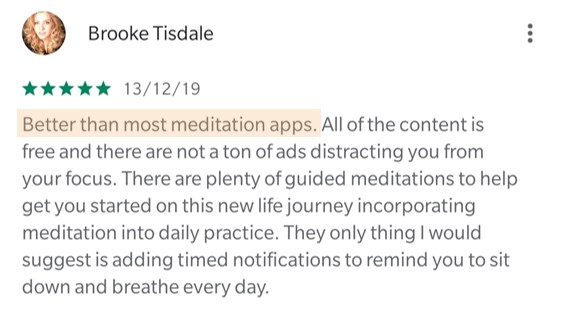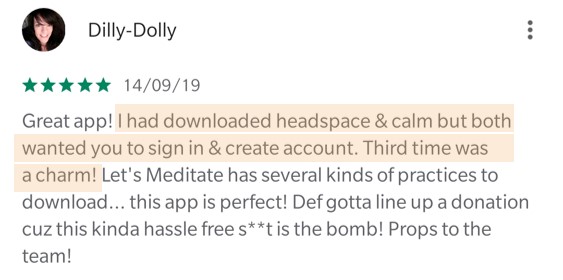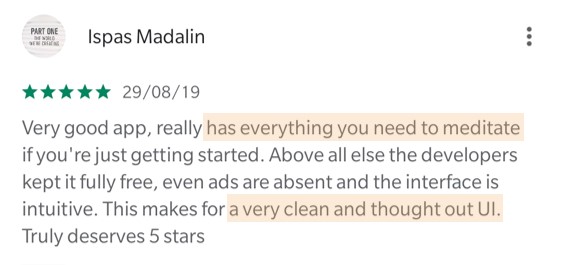 2 million
lifetime installs
What did I learn?
Fail fast and keep iterating
Not all designs will be successful. It is important to evaluate the success of designs before it's too late. What helped me was the app's beta channel where I could publish early updates to gain feedback from the user community.


Remember your Why and learn to say No
Just because your design can take shape in numerous dimensions does not mean that it should. Saying no to the noise is the best way to focus on what matters the most.


Ownership is powerful
Owning a project from start to finish is an experience on its own. Combine that with the power to affect the lives of over a million users, things get pretty overwhelming but exciting. It feels great to connect to people on such a big scale, but the pros and cons of every decision have to be weighed before execution as they have real consequences on the lives of millions.
What would have I done differently?

Find a partner or a mentor
A lot of the app success came from learning in a hard way. Had I partnered with someone or asked for help from a mentor on the kind of directions to take, the development of the app probably would have been smoother.


Invest more time in it
Since this app was my side project, I could invest very limited time in it. As a result, the development was slow. However, that did work in my favor, since my beta designs had a chance to be in the wild for long enough to attract sufficient feedback and criticism until I managed to find the time to reiterate.